Ringvorlesungsreihe Diversity, Gender & Intersektionalität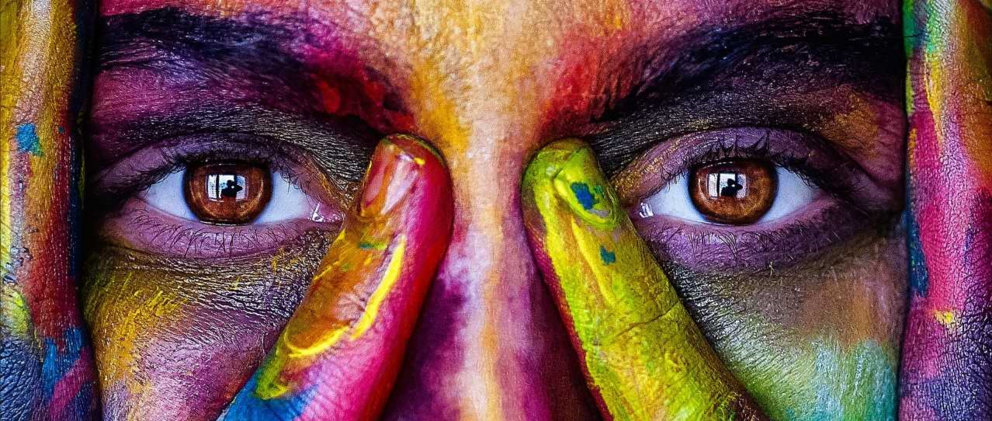 Mapping the Margins, Revisited: Intersectionality and American Studies
Prof. Dr. Karsten Fitz, Professur für Amerikanistik/Cultural and Media Studies
Die interdisziplinäre Vorlesungsreihe "Mapping the Margins, Revisited: Intersectionality and American Studies" befasst sich mit dem Thema Intersektionalität, indem einzelne Segmente der US-amerikanischen Literatur- und Kulturgeschichte in den Blick genommen werden. Als theoretischer Rahmen, der untersucht, wie Aspekte der sozialen und politischen Identität einer Person (z. B. Geschlecht, Einwanderungsgeschichte, Klasse, Nationalität, Sexualität, Religion, Behinderung, Alter, physische Erscheinung usw.) interagieren können, beschreibt Intersektionalität die Überlappung und Gleichzeitigkeit von verschiedenen, aber miteinander verbundenen Formen der Diskriminierung und Privilegien einer Person.
Die Brutalität der Polizei gegen Schwarze Menschen und People of Color in den USA (und darüber hinaus) in den letzten Jahren ist nur ein aktuelles prominentes Beispiel für strukturelle und systemische Diskriminierung. Mehr als dreißig Jahre nachdem der Begriff Intersektionalität von der US-amerikanischen Professorin für Rechtswissenschaft und Bürgerrechtsanwältin Kimberlé Williams Crenshaw (1989) geprägt wurde, hat das Konzept weltweite Aktualität und weit verbreitete transdisziplinäre akademische Anziehungskraft erlangt. Wir nehmen dies als Anlass und Ausgangspunkt, um US-amerikanische kulturelle und literarische Werke über Medien, Genres, Texttypen und Epochen hinweg (erneut) zu untersuchen.
Die Vorträge finden jeweils montags von18 bis 20 Uhr via Zoom statt und stehen allen Interessierten offen. Alle Vorträge der Ringvorlesung finden auf Englisch statt.
Datum
Vortrag
12.04.2021

Prof. Dr. Karsten Fitz, American Studies, University of Passau
"Introduction I, or: What is Intersectionality?"

19.04.2021

Vanessa Vollmann, PhD student, American Studies, University of Passau
"Introduction II, or: Theorizing Founding Mothers of Color in the Broadway Musical Hamilton"
Dr. Grit Grigoleit, American Studies, University of Passau
"At the Intersection of Race, Gender, Class: Constituting the Welfare Queen"

26.04.2021

Alexandra Hauke, American Studies, University of Passau
"From Eve to Moana: Ecofeminism and/as Intersectional Environmentalism"

03.05.2021

Dr. Chelsea Mikael Frazier, Department of Literatures in English, Cornell University
"Approaches to Centering Black Feminism in Eco-Thought"

10.05.2021

Bettina Huber, American Studies, University of Passau
"Chris Kyle, Mike Banning and Tony Stark: White Masculinity and the Idealized Soldier"

17.05.2021

Prof. Dr. Cliff Leek, Department of Sociology, University of Northern Colorado
"Engaging Men in the Prevention of Gender-Based Violence: Why, How, and What Can Go Wrong"

31.05.2021
Florian Zitzelsberger, American Studies, University of Passau
"Contesting Realness, or: Drag Race is Burning"
07.06.2021
Kai Prins, Department of Communication Arts, University of Wisconsin-Madison
"The Gay-te Keepers at the Fourth Wall: Queering the Borders of the Drag Stage"
14.06.2021
Dr. Viola Huang, History Education & American Studies, University of Passau
"The History of Intersectional Politics in the Black Power Movement"
21.06.2021
Prof. Dr. Rebecca Brückmann, History of North America and its Transcultural Context, Ruhr-Universität Bochum
"Towards an Intersectional History of White Supremacy and the Black Freedom Struggle"
28.06.2021
Prof. Dr. Karin Stögner, Sociology, University of Passau
"Intersectionality and Antisemitism - A Critical Approach"
05.07.2021
Thomas Stelzl (plus Passau team), American Studies, University of Passau
"Where Are We Today? - Assessing three Decades of Intersectionality Discourse"
Vergangene Vorlesungsreihen
Mit der Vortragsreihe "UniVersity" startet im Wintersemester 2020/21 unter Leitung von Vizepräsidentin Frau Prof. Dr. Hansen und in Zusammenarbeit mit der Frauenbeauftragten Frau Prof. Dr. Sieber und dem Referat Diversity und Gleichstellung eine neue Ringvorlesungs-Reihe, die künftig jedes Semester aus verschiedenen Blickwinkeln das Thema Diverstiy aufnimmt und die Universität in gemeinsamer Verantwortung zum Thema verpflichtet.
Als Auftakt soll die Vortragsreihe "UniVersity" grundsätzliche Fragen zu Diversität und Gesellschaft behandeln, wie z.B. "Wie gehen wir an der Hochschule tagtäglich, aber auch in strategischen Überlegungen mit Diversität um?", "Inwiefern sind Normalitätsvorstellungen in Interaktionen, Strukturen und Verfahren in die Wissensproduktion eingeschrieben?" oder "Welche Verantwortung trägt die Universität für die gesellschaftliche Transformation von Diversität?" und zum Diskurs anregen.
Die Vorträge starten jeweils um 16 Uhr und finden – je nach Corona-Lage – physisch oder online statt.
Unter diesem Link finden Sie die Abstracts zu den Vorträgen.
Datum
Vortrag
01.12.2020

Prof. Dr. Christina Hansen, Universität Passau (online)

"Wie aus Vielfalt Diversity wurde - eine vielleicht provokative Einführung"

15.12.2020

Dr. Nathalie Schlenzka, Antidiskriminierungsstelle des Bundes (online)

"Diskriminierungsrisiken an Hochschulen begegnen: Was braucht es für einen systematischen Diskriminierungsschutz?"

19.01.2021

Dr. Jennifer Schevardo, Helmholtz-Zentrum Berlin

"Ein Werkstattbericht: Das HZB als außeruniversitäre Forschungseinrichtung im Diversity-Audit"

26.01.2021

Prof.Dr.Isabell Diehm, Universität Frankfurt

"Heterogenität, Differenz und Ungleichheit im Bildungsbereich"

02.02.2021

Prof.Dr. Andrea D. Bührmann, Universität Göttingen

"Universitäten als Ermöglichungsräume"
Universitäten sind jahrhundertealte, traditionsbewusste Einrichtungen und verändern sich nur sehr langsam. Viele unserer Abläufe, Bezeichnungen und Gewohnheiten stammen buchstäblich aus dem Mittelalter. Der Satz "Das haben wir schon immer so gemacht!" ist auf unseren Fluren oft zu hören, und oft dient er dazu, einer Vorgehensweise Autorität zu verleihen. Aber ändert der Ruf nach "Diversity Management" an Universitäten wirklich etwas daran?
Abgesehen davon, dass trotz vieler Kampagnen des Diversity-Managements in Wirtschafts- und Universitätsbetrieben (noch?) keine nennenswerten quantitativen Veränderungen in der Beschäftigungsstruktur bewirkt haben, lassen sich auch konzeptionelle Probleme einer simplen "Vielfalt bringt mehr"-Forderung herausarbeiten: So wird beispielsweise im Versuch, "diverser" zu werden, häufig auch der Anspruch "flexibler" zu werden, verknüpft. Dabei fügt sich eine neoliberale Rhetorik ökonomischer Nützlichkeit von "Anderssein" in die Auflösung von Fördermaßnahmen: Statt Umverteilung braucht es eben nur das richtige Management (diversen) Klientels.
Im Vortrag wird auf der Grundlegung verschiedener Ansätze und Intentionen zur Diversity der Frage nachgegangen, wie an Orten, an denen die Diversity-Praxis eine besonders große Rolle für die Entfaltungsmöglichkeiten von Menschen spielt – wie z.B. an Universitäten - eine kommunikative Berücksichtigung von Differenz und Identität, von Fremdheit und Anderssein möglich wird, die dominante Differenzschemata nicht so relevant setzt, dass man gezwungen oder verführt wird, sich in diesen Schemata darzustellen, und einem und einer zugleich die Freiheit gewährt wird, sich in diesen Schemata zu artikulieren.
Diversity birgt also das Risiko, hinterfragt zu werden. Wie das bei guter Kritik der Fall ist. Wer sollte das pflegen, wenn nicht die Hochschulen?
Rassistische Beleidigungen und Abwertungen, sexuelle Belästigung, fehlende angemessene Vorkehrungen für Beschäftige und Studierende mit Behinderungen oder Trans*studierende, aber auch institutionelle Diskriminierung, machen vor Hochschulen nicht halt. Wie äußert sich Diskriminierung an Hochschulen konkret und auch aktuell im Kontext von Corona? Welche Verpflichtungen zu Diskriminierungsschutz haben Hochschulen? Wie gehen Hochschulen bei der Prävention von und der Intervention bei Diskriminierung vor und mit welchen Herausforderungen sind sie dabei konfrontiert?
Im Vortrag werden diese und weitere Fragen thematisiert und aufgezeigt, welche Handlungsspielräume und künftige Entwicklungsmöglichkeiten Hochschulen für einen effektiven Diskriminierungsschutz haben. Dabei wird auch die Rolle von Beratungsangeboten, Beschwerdeverfahren und Richtlinien bei Diskriminierung an Hochschulen beleuchtet.
Das Diversity-Audit des Deutschen Stifterverband wurde Jahre 2012 zunächst für Hochschulen entwickelt und seitdem haben sich 42 deutsche Universitäten und Fachhochschulen als diversity-sensible Arbeitgeber zertifizieren lassen. Das Helmholtz-Zentrum Berlin ist die erste außeruniversitäre Forschungseinrichtung in Deutschland, die dieses Audit durchläuft. Der Auditierungsprozess und seine Themenschwerpunkte wurden für dieses Pilotprojekt eigens angepasst. Begleitet wird das HZB von der erfahrenen Auditorin Karoline Spelsberg-Papazoglou.
Das Audit ist am HZB als ein partizipativer Prozess aufgesetzt, der rund neun Monate dauern wird. Im Laufe von drei Veranstaltungen und einer längeren Umsetzungsphase werden Ideen der Mitarbeitenden gesammelt, der Ist-Zustand am HZB kritisch ausgewertet und mögliche Maßnahmen zur Stärkung von Diversity entwickelt und umgesetzt. Möglichst viele Mitarbeitende und Führungskräfte aus allen Bereichen des HZB sollen sich in den Prozess einbringen und für die Umsetzung der Ideen Verantwortung übernehmen. Auch die Geschäftsführung des Hauses positioniert sich klar für das Audit und nimmt praktisch an seiner Gestaltung teil.
Hier wird es um einen Einblick in den laufenden Prozess gehen. Vorgestellt werden die spezifischen Ziele und Herausforderungen einer außeruniversitären Forschungseinrichtung beim Thema Diversity sowie eine erste Bilanz: Welche Faktoren haben den Prozess bis dahin begünstigt und welche Blockaden sind offenbar geworden? Aus welchen Motiven haben sich Mitarbeitende in das Audit eingebracht und wie ist es gelungen, sie über einen längeren Zeitraum aktiv zu halten? Was waren quick wins und welche Ziele haben sich als (zunächst) unrealistisch erwiesen.
Ein Plädoyer für die begrifflich-systematische Unterscheidung der Konzepte 'Heterogenität' und 'Differenz' leitete den Vortrag ein und rahmt ihn theoretisch. Daran schließen sich Überlegungen an, welche die anhaltenden stark ethnisch und sozial codierten Ungleichheitsverhältnisse im Bildungsbereich institutionen- und diskriminierungstheoretisch in den Blick nehmen werden.
Universitäten sollten in der Regel als Ermöglichungsräume wirken, indem sie allen ihren Mitgliedern bzw. Angehörigen die besten Rahmenbedingungen bieten, damit sie erfolgreich forschen, lehren oder andere Karrieren verfolgen können. Für den Zugang zu Universitäten und entsprechende Karrieren sollte dabei das meritokratische Ideal gelten – d.h. nur die eigene Leistung zählt. Ein Blick in die empirisch-konkrete Praxis zeigt jedoch, dass Menschen mit bestimmten sozialen wie kulturellen Hintergründen und Erfahrungen in Universitäten - oftmals unabhängig von Ihren Leistungen - privilegiert und andere diskriminiert werden. Dies widerspricht nicht nur dem meritokratischen Ideal, sondern auch dem Gleichbehandlungsgrundsatz. Darüber hinaus aber hat es auch negative Folgen für die Studien- und Forschungsleistungen aller. Studien zeigen nämlich, dass ein inklusives Klima Kreativität und Innovation befördert, während Diskriminierungserfahrungen die Leistungen der Betroffenen mindert.
Mit Blick darauf werde ich in meinem Vortrag aufzeigen, wie Universitäten über die Implementierung von Diversitätsstrategien auch praktisch (wieder) zu (diskursiven, analogen und digitalen) Ermöglichungsräumen werden könnten. Als Beispiel dient mir die inklusive und transformative Diversitätsstrategie der Universität Göttingen. Meinen theoretischen Ausgangspunkt bildet das Forschungsprogramm der reflexiven Diversitätsforschung.