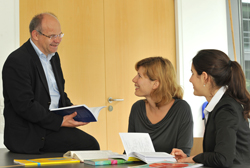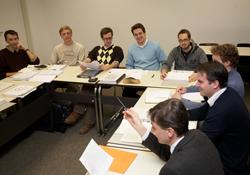 By student population the University of Passau is a smaller-sized university: this results in numerous advantages, such as:
an excellent staff/student ratio
personal contact with lecturers
more focused supervision and guidance
a large number of tutorials and free-of-charge revision courses
well-stocked libraries and
a sufficient number of computer workstations in the computer rooms
Top teaching quality
The University of Passau prides itself on its excellent conditions for study in all its degree courses, many of which regularly achieve top places in various university rankings.
The degree courses in

Computer Science, Law

and Media and Communication are widely considered to be among the best courses of their kind in Germany. (Source: CHE rankings for 2011/2012 and Apr 2012)
International Cultural and Business Studies is one of the top two degree courses in Germany. (Cum Laude competition, Nov 2011)
Business Administration and International Economics and Business are among the top-rated German business Master's degrees, with a seamless transition from the University's Bachelor's to its Master's programmes. (Source: CHE ranking, December 2011)
The overall conditions for studying Political Science and English Studies are excellent. (Source: CHE rankings for 2010/11 and 2011/12)
The Centre for Key Skills received a TÜV certification, confirming the high quality of the soft-skill training courses, which are free of charge for students.
Related information