Project FutureCropFarming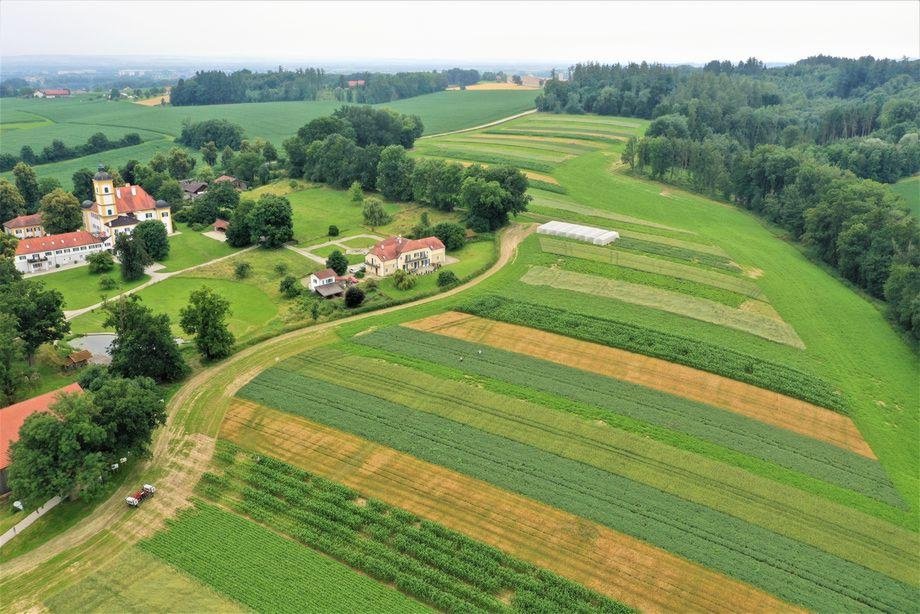 Agriculture is facing major challenges. It is expected to produce quality food and raw materials while increasingly accounting for the need to protect soils, water, climate and biodiversity. What could future crop farming look like? And how can bridges be built between the different knowledge cultures to integrate the knowledge of agriculturalists with that of farmers and social actors?
The object of this interdisciplinary project is to explicitly support efforts to resolve the major challenges in agriculture within the context of biodiversity, soil conservation, climate change, safeguarding of competitiveness and social acceptance. The Platform for Research, Demonstration and Knowledge Transfer is a field covering an area of nearly 30 acres right next to the Bavarian State Research Center for Agriculture (LfL) in Ruhstorf-Kleeberg. An innovative, diversified and digitalised small-scale crop farming system of the future is being run there: Various plants (including sugar beet, lupine, winter wheat and soy) are being cultivated in this "field lab" consisting of 15-metre-wide land strips that are interspersed by biodiversity ridges ("beetle banks"). State-of-the-art digitalisation technology and agricultural robots are being used to manage the facility.
The Chair of Sociology of Technology and Sustainable Development is involved in a sub-project tasked with developing, implementing and evaluating an innovative knowledge transfer concept. Agricultural research results cannot simply be "transferred" to agricultural or civil society settings, i.e. they cannot be applied without making the necessary adjustments: Research knowledge must integrate with local and practical knowledge cultures in order avoid undesirable side effects and maladjustments. The aim is to establish a mutually enriching exchange between groups with different global views and knowledge cultures. Existing knowledge cultures need to be mapped out to facilitate this. Based on the approaches taken especially in science studies and technology research but also in practice theory, the object of the exercise is to classify such knowledge cultures on account of their characteristics, mostly using ethnographic methods and interviews, and to feed the findings obtained thereby into the development of an innovative knowledge transfer concept.
Project management: Prof. Dr. Anna Henkel
Project participants: Holli Gruber (M.Sc.), Laura Scheler (M.A.)
| | |
| --- | --- |
| Principal Investigator(s) at the University | Prof. Dr. Anna Henkel (Lehrstuhl für Soziologie mit Schwerpunkt Techniksoziologie und nachhaltige Entwicklung) |
| Project period | 01.01.2022 - 31.12.2024 |
| Website | https://future-crop-farming.de/ |
| Source of funding | BayStMELF - Bayerisches Staatsministerium für Ernährung, Landwirtschaft und Forsten |
| Projektnummer | A/21/17 |
| Themenfelder | Rechts-, Wirtschafts- und Sozialwissenschaften |