In this section, we introduce you to the events that take place regularly and which help you get connected.
Feel free to contact us for information or to take part in the next event.
You can find information on the current events at Events.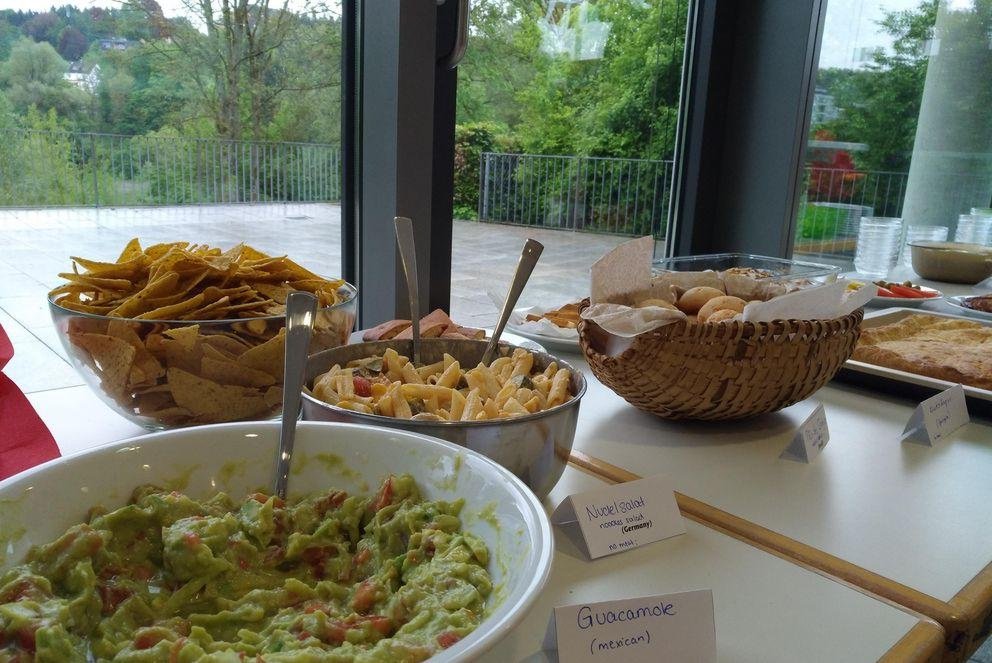 The International Dinner is a staple event in the Welcome Centre's social cal­endar – and for good reason. The idea of this evening is to experience typical meals of all your different home countries. Therefore, everyone should prepare and bring their favourite dish so that we can taste a variety of culinary specialities from all over the world. While trying out what everyone has brought, we have great conversations, sharing and exchang­ing thoughts on work, culture and – of course – food.
We hope to see you next time!
Each year, the Welcome Centre organises a Christmas Party for in­ternational academics and their families. The aim is to bring German traditions closer to our international guests and to create a discourse on international customs and topics. Because – culture connects!
Many participants enjoy the pre-Christ­mas evening while tasting the traditional Kinder­punsch, Lebkuchen, Spekulatius, nuts and fruits, and singing and listening to some famous Christ­mas carols. Everyone shares some Christmas tra­ditions from their home countries. Especially the children are always very happy about the visit of St. Nicholas, who brings them some sweets. Finally, the adults can experience the German tradition called Wichteln, so that no one goes home with empty hands.
In spring, the Welcome Centre hosts an Easter event at which the academics can learn how to bake Easter bread or dye Easter eggs and, of course, share their different customs and traditions.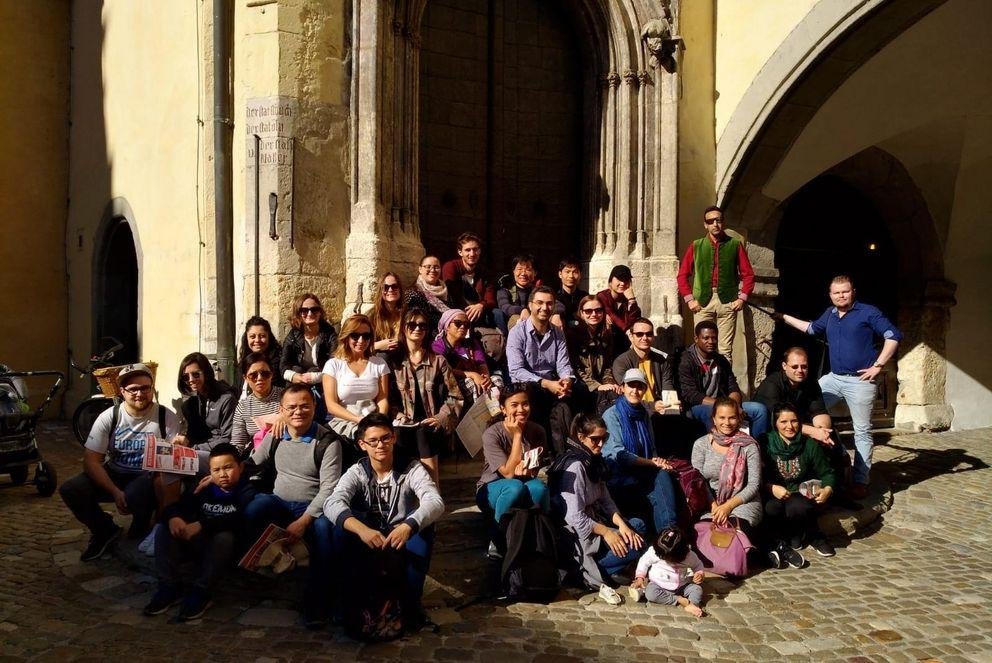 Once a semester the Welcome Centre organises a day trip. Our trips have led us to cultural centres such as cities like Salzburg or Krumau, as well as to beautiful countryside destinations in the Bavarian Forest or the Alps. We usually meet at the university in the morning to board the bus, which takes us to our destination. Upon arrival, our guests can decide whether they want to take part in the programme we have planned for them or whether they want to explore the place on their own.
Guided Campus Tours
For many years, students and em­ployees of the University of Passau have had the chance to explore our beautiful campus in depth as part of a guided tour – but only ever in German.
Therefore, the Welcome Centre has decided to offer a guided tour in English. From now on, we will regu­larly show you around campus and tell you interesting facts and fun triv­ia about the University of which you are now a member.
The tour takes about an hour and leads you along the whole universi­ty area campus, which is more than one kilometre long. You will learn about the history of our university, from the newest glass-and-steel buildings to the old student 'ghetto' where the outdoor sports grounds are located today. After our guided tour, you will know a lot more about the architecture and art on campus and recognise even little things when walking by. Please let us know beforehand if you are interested in taking part.
Workshops
The Welcome Centre offers workshops on culture. In addition, leadership workshops are organised, in which professional lecturers speak about leadership positions.
Furthermore, we would like to refer you to the Graduate Centre, which, as a central institution of the University of Passau, regularly and widely offers academic and informational events.