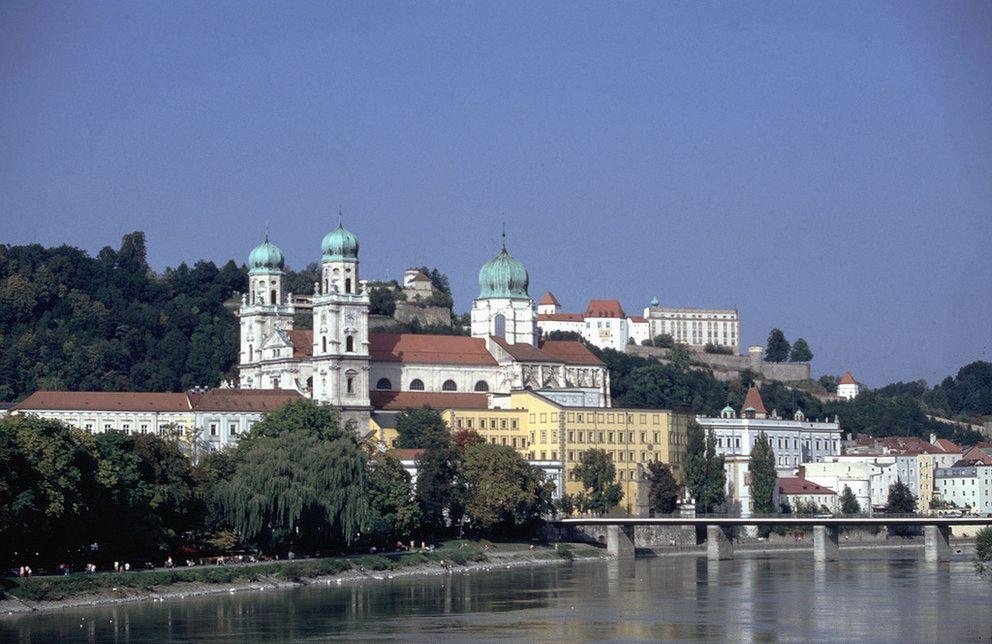 Widely considered one of the most beautiful cities in Germany, Passau is situated in the southern foothills of the Bavarian Forest at the confluence of the rivers Danube, Inn and Ilz.
Having been razed to the ground in the great fire of 1662, Passau was rebuilt according to designs by Italian architects, bringing about a Mediterranean baroque flair. It is in part for this reason that Passau is also known as the 'Venice of Bavaria'. Sitting atop a small hill in the Old Town sits St. Stephen's Cathedral, the largest baroque cathedral north of the Alps. Its pipe organ is the world's largest of its kind in a cathedral. The Old Town is characterised by spacious squares, romantic promenades, narrow winding alleys adorned with small cafés, bars and beer gardens.
Passau is home to a number of cultural institutions, such as the theatre (Landestheater Niederbayern) and the ScharfrichterHaus – a restaurant and political cabaret stage where many of Germany's most popular comedians started their careers. Many cultural events are put on throughout the year, such as the Europäische Wochen Passau and the Eulenspiegelcomedy festival on the tip of the peninsula between the rivers Danube and Inn. Naturally, Passau also has various movie theatres, including a 3D multiplex cinema.
Twice a year, Passau hosts its own version of the Oktoberfest – 'Maidult' and 'Herbstdult' with many thrilling rides, plenty of traditional Bavarian cuisine, and of course, the iconic beer tents. These, and the Haferlfest, are centuries-old festivals and a fixture in Passau's cultural calendar. On top of that, there are various street festivals, and naturally a Christmas market in December.
The region surrounding Passau has a lot to offer its visitors, such as the long-distance Danube cycling trail, the spa triangle and the Bavarian Forest with its beautiful sights and pristine nature, perfect for cycling, hiking, water sports, golf, cross-country and alpine skiing and snowboarding, mountaineering and abseiling, or just plain old relaxing in a natural spa in one of Bad Füssing or Bad Griesbach's famous thermal spas.
One special feature of the region is that it is so close to the Czech Republic and Austria, allowing for day trips to beautiful towns with an ancient culture, and don't forget to sample the exquisite Bohemian and Upper Austrian cuisine.