Virtual campus: a social meeting space
Student life normally isn't limited to lectures, tutorials, exams and other learning activities. A university campus is, among other things, a place for meeting (new) people, including those who aren't part of your own study group or your own degree programme. Therefore, we decided to provide an opportunity for students (and all other members of the university community) to experience such encounters online, using the Wonder platform. The Wonder Room is there for you to encounter others, to meet friends and acquaintances, and to host activities if you wish.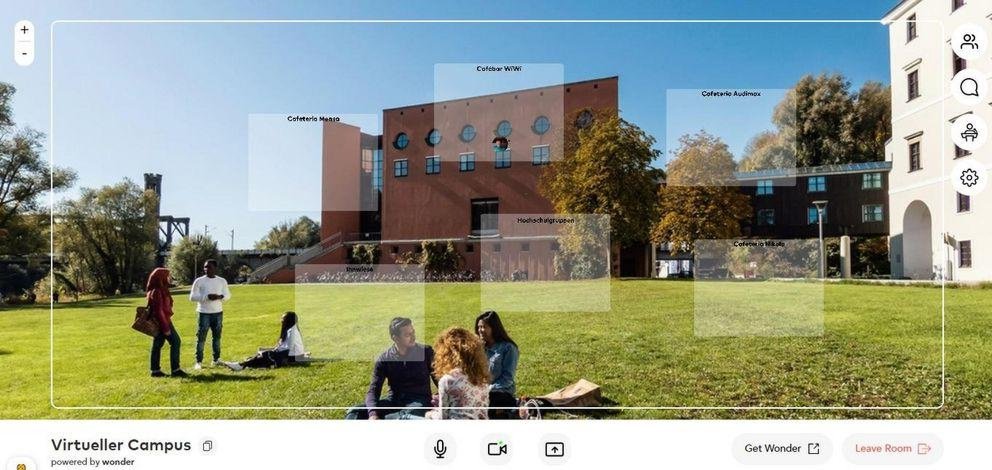 Wonder is a web platform combining aspects of video conferencing software, chat rooms, and a playful, informal user interface. Wonder Rooms are designed specifically to make it easy (and fun) to meet new people and to have informal, social conversations.
A Wonder Room can include several "areas" (highlighted rectangular sections). Users can come together in circles to have conversations. Circles are similar to Breakout Rooms in Zoom, but by design it is much easier for a user to move from circle to circle in Wonder.
Pop into the Wonder Room during your lunch break, between 12 and 2 o'clock. Perhaps you'll run into familiar faces, or join a random circle and make new acquaintances.
Perhaps a peek into the Wonder Room in the evening, between 6 and 8 o'clock is worth a try? Why not start a virtual weekly "pub" night with friends, a language club, or a social gaming night?
If you are involved in a student society or a Faculty's student committee, you could announce in advance when you'll be in the Wonder Room. Treat it like an information stall, or a place where people can come to ask questions. If you'd like to arrange group meetings or host an event, contact us to discuss how we can assist you.
Questions?
If you have any questions or you'd like to discuss an idea, contact the web editorial team. We'll be delighted to support your initiatives! You can also use other communication channels, such as the University blog, social media, and Stud.IP to reach out to fellow students and draw attention to your activities.
A PC or laptop
Web cam and microphone
The latest version of Google Chrome or Microsoft Edge
Wonder Rooms may also work in other modern browsers. Howerver, only Chrome and Edge are officially supported. Unfortunately, Wonder is not designed to work on mobile / tablet screens.
Please note: before using Wonder, any other application that accesses your webcam or microphone (e.g. Zoom or Skype) should be deactivated / switched off entirely.
If everything works well, Wonder can be more fun to use than Zoom. However, Wonder is still in early development.
| Wonder | Zoom |
| --- | --- |
| Only compatible with certain devices and browsers | Compatible with all modern browsers and devices |
| Isn't very good at dealing with poor internet connections and lags / delays. | Comparatively very good at dealing with poor internet connections. Zoom is very resilient. |
| Bugs and errors occur fairly frequently | Generelly reliable |
| Informal, fun user interface. | Formal, functional user interface (with some lighthearted options, such as filters) |
| Moving from conversation to conversation is very easy and the user interface is designed for replicating a social dynamic | Users can be sent to breakout rooms, but it's not really designed for moving between lots of converations. |
| There is no need for a host. The Wonder Room, once set up, does not distinguish much between users, and anyone can join or leave at any time. There is almost no hierarchy of control. | Meetings are set up by hosts, who can manage the permissions that each participant has. |
For any formal meeting or event, which requires a high degree of technological reliability and ease of access, we recommend using Zoom.
However, Wonder can be a great solution for social and informal gatherings, despite the reliability issues and system requirements.
For technical problems and advice on using Wonder, please see the Troubleshooting page.
To contact customer support, please use the chatbot you can find on the Wonder Support web page.