denk.mal digital - Media-supported historical-political education in the Bavarian-Bohemian border region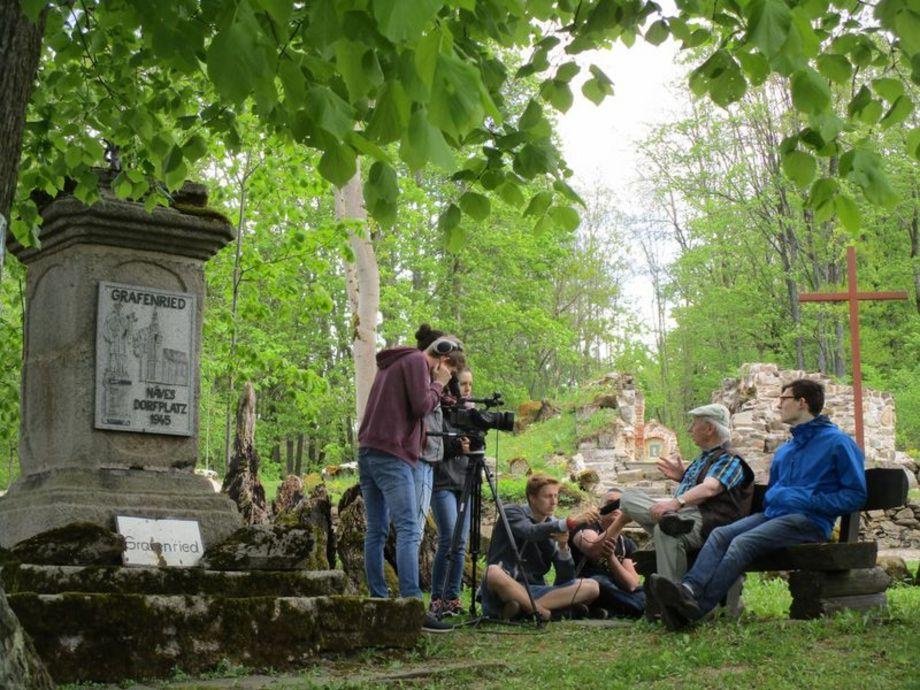 The project "denk.mal digital. Media-supported historical-political education in the Ba-varian-Bohemian border region" intends to teach the local Bavarian-Bohemian history in an innovative way with digital media. In order to do so, we will investigate monu-ments commemorating the victims of National Socialism and the opening of the bor-der in 1989/90.

Seminars for Students

For students of the University of Passau and the University of West Bohemia, we will offer German-Czech seminars and excursions, during which they will gain knowledge about the history of the Bavarian-Bohemian border region, digital know-how, as well as language skills. The offer is particularly aimed at pre-service teachers, but is also suitable and open to students of other relevant courses of studies.

Project Days

German-Czech groups of students will meet at the border.
For schools in the border region, we offer German-Czech project days about different historical topics. In particular, students will investigate monuments – both existing monuments as well as monuments, which may be missing from a historical-didactical perspective.

The "denk.mal digi-days" will be conducted as workshops by the project-team at the
respective schools.

For the three-days-long-meetings in the Bavarian-Bohemian border region, we are hoping for a close collaboration among the participants. They will explore the envi-ronment, talk to contemporary witnesses and develop concepts for monuments in German-Czech teams.

Afterwards, students will present their results at the schools.

Professional Development for teachers

Part of the project is a cycle of three day-long seminars and one two-days-long semi-nar for teachers.

Each professional development event focuses on a specific topic with interactive ex-cursions to monuments as well as the introduction to digital settings of teaching, learn-ing, working, and presentation.

With regard to content, all seminars address the crimes of National Socialism and the subsequent handling of the memories of these crimes.

The day-long seminars discuss monuments of the death march in Buchenwald and further victims of National Socialism.

The training will support educators to integrate the local history of the border region into their regular lessons.

The seminars are particularly aimed at history teachers in the Bavarian-Bohemian border region. However, teachers of other subjects than history can participate if interested. The following is relevant to all: the seminars and workshops will take place in the region of the project (see project-flyer), i.e. in the districts of Amberg-Sulzbach, Cham, Deggendorf, Freyung-Grafenau, Neustadt an der Waldnaab, Passau, Regen, Regensburg, Schwandorf, Straubing-Bogen, Tirschenreuth and the cities of Amberg, Passau, Regensburg, Straubing and Weiden in der Oberpfalz.

Digital map of monuments

As part of the project, we will develop a map of monuments in the Bavarian-Bohemian border region in both a digital and a printed format.
| | |
| --- | --- |
| Principal Investigator(s) at the University | Prof. Dr. Andreas Michler (Professur für Didaktik der Geschichte) |
| Project period | 01.01.2020 - 31.12.2022 |
| Website | https://www.uni-passau.de/denkmaldigital/ |
| Source of funding | Europäische Union (EU) > EU - Europäischer Struktur- und Investitionsfonds (ESI-Fonds) 2014-2020 > EU - ESIF - Europäischer Fonds für regionale Entwicklung (EFRE) 2014-2020 > EU - ESIF - EFRE - Ziel ETZ Freistaat Bayern-Tschechische Republik 2014-2020 (INTERREG V) |
| Projektnummer | 300 |
| Themenfelder | Didaktik der Geschichte, Geisteswissenschaften, Erziehungswissenschaft |