The Case Wayanad "The Land of Paddy Fields"
Sustainable development in India reduces the pressure on common goods for the global sake. This is the point of departure to address agrobiodiversity loss in Indian agriculture within the framework of Social-Ecological Research.
Wayanad district in the Indian state of Kerala with its high diversity in rice landraces in the uplands is a showcase of continuous cultivation by marginalised indigenous groups such as the Kurichiya, the Kuruma and Paniya. These groups retain rice as a central crop in their farming system despite sinking prices and increasing conversion of land for plantations such as for bananas.
The observed change in land use is accompanied by a degradation of the agroecosystem and the transformation of gender relations. The traditionally strong integration of women in complex farming-systems and the thereby gained status is undermined by market integration. On the other hand, women's knowledge is gaining increasing attention in the debate on agrobiodiversity as it could occupy a central position in sustainable utilisation of agrobiodiversity.
Sustainability should be practiced on many levels and across many sectors to achieve the conservation of ecosystems and biodiversity, maintain productive land use systems, drive the protection of natural resources and ecosystems and the development of gender-equitable participation and conflict resolving mechanisms.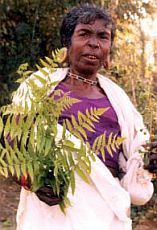 Janu, a Daily Labourer from Wayanad
Janu* belongs to the Panyia indigenous people, a marginalised indigenous community. Until recently, she used to work on rice fields on a daily wage basis. Her profound knowledge on herbs, wild vegetables and crabs enabled her to increase her livelihood. However, the conversion from rice to banana puts a lot of pressure on tribal women in particular. Slowly but surely, women's jobs are being taken away and replaced through male farmers working in banana cultivation. In addition, due to the increased use of pesticides on banana fields, animals and plants at the edges of cultivated land are becoming unpalatable.
How does Janu see her own life in the near future? Even though many landlords are stepping out of rice cultivation, will she start to grow local rice varieties on her own? If so, she will potentially contribute to protect the cultural landscape of Wayanad in the future.
* Name altered