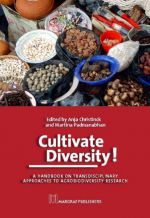 Handbook Cultivate Diversity!
Order form: Handbook Cultivate Diversity!
Poster presentation: Handbook Cultivate Diversity!
New BioDIVA handbook out now!
BioDIVA key project publication "Cultivate Diversity! - A Handbook on Transdisciplinary Approaches to Agrobiodiversity Research" presents theoretical backgrounds, methods and practical approaches for addressing the urgent issue of agrobiodiversity loss through transdisciplinary research.
The handbook focuses on the process of generating transformation knowledge in the field of agrobiodiversity management, use and development and aims to inspire change – in research approaches, in institutions and in the field. It is written from a science perspective targeting an audience of scientists in international and national research institutions, as well as practitioners and students.
The book editor team includes Dr. Anja Christinck, agricultural social scientist, book editor and consultant of seed4change, Gersfeld, Germany, and Prof. Dr. Martina Padmanabhan, BioDIVA team leader. The book comprises contributions of BioDIVA researchers from India and Germany and of international researchers and practitioners.
The handbook was presented at the National Level Dialogue Workshop
hold by the BioDIVA project in Chennai, India, in September 2013.
Preview: Handbook Cultivate Diversity!