Refugee Programme: intensive programme for refugees with university entrance qualifications
The course is suitable for refugees who would like to study at the University of Passau or another German university in the future and who have already completed an integration course and have a good command of German. The programme includes intensive German language courses as well as the option to attend courses in the field of study of your choice (economics, computer science, law, cultural studies or humanities).
The programme prepares the participants for the DSH test, which – among other things – is a prerequisite for studying at a German university. Programme participants can learn German for a minimum of 24 hours a week and gain an insight into studying at the University of Passau.
If you are interested in joining, please send an e-mail to refugeeprogramme@uni-passau.de or give us a call.
Information brochure (German) about the programme.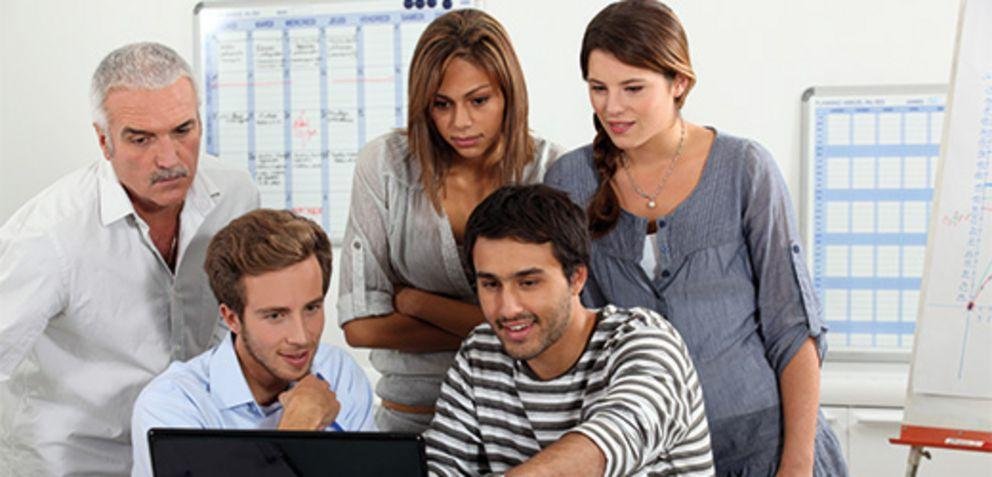 Do you want to study at the University of Passau or at another German university but don't feel your language skills are up to the task?
Have you attended a German language course at level B2 CEFR?
Do you have a higher education entrance qualification for Germany (school leaving certificate equivalent to the Abitur) or have you started studying or even graduated at university in your home country?
Are you an asylum seeker or have you been granted asylum?
Costs
There are no course fees and no costs for teaching materials.
A fee of €84.50 is charged each semester for the issue of a special CampusCard (which includes access to the Sports Centre, library and refectory and serves as a semester bus pass for the use of the buses in town). This is entirely voluntary; participants are not required to have a CampusCard.
The costs for your first DSH test (German language examination) are waived, but you have to have attended the courses regularly.
Directions
Courses usually take place during the day, so you will have the opportunity to use public transport even if you live outside the city limits of Passau. In cases of hardship, the University will consider providing a travel allowance upon request.
Participants are selected according to the following criteria:
Language skills
Eligibility for studying at a German university
Interest in studying a full degree programme at the University of Passau
Find out more about the study options offered by the University of Passau
The application is initially made online. You will then submit all the necessary documents, as described in the e-mail you receive after filling in the application form.
Signed application form
Copy of the translation of your higher education entrance qualification (usually your secondary school/high school leaving certificate)
Copy of proof of completion of a B2 German language course
Letter of motivation: Answers to three questions you will find in the e-mail you receive after filling in the application form (written without outside help)
Other supporting documents, if needed
Please use this application form.
Applicants who are unable to submit certificates but who can provide credible evidence of their education background may be considered (after detailed information in accordance with the guidelines of the KMK). Please contact us by e-mail if this is the case.
Women are expressly invited to apply.
The placement test and the selection interviews will take place shortly after the application deadline at the University of Passau. Detailed information will be sent to the successful applicants by e-mail.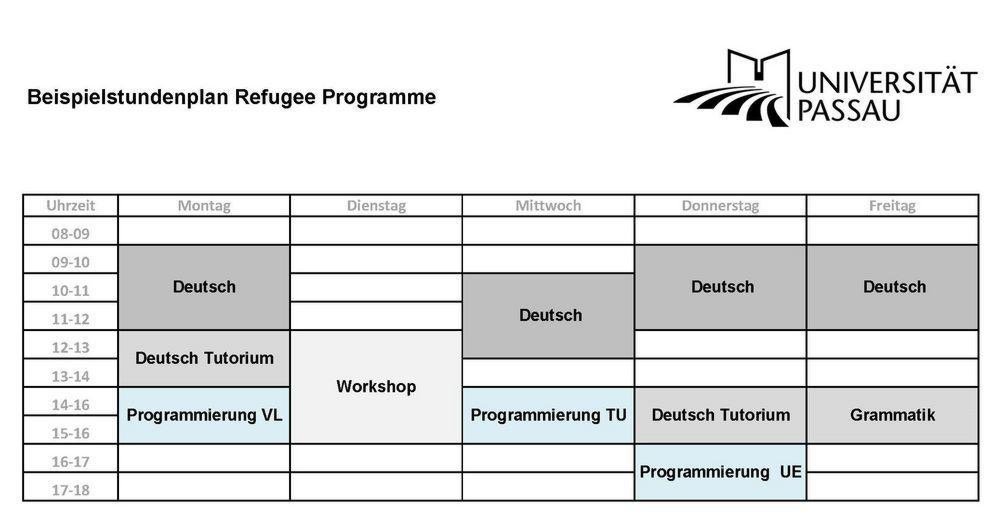 This is what your timetable in the Refugee Programme might look like.