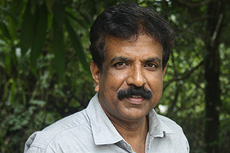 Director of the MSSRF Community Agrobiodiversity Centre
Dr. Anil Kumar is director of the Biodiversity programme of M S Swaminathan Research Foundation and functions as the director of Community Agro-biodiversity Centre (CAbC) in Kalpetta, Wayanad, since 1997.
Research Expertise
Community development
Sustainable management of genetic resources
Training specialist and NGO mobilisation for biodiversity conservation and sustainable management
Current Research Interests
Conservation and sustainable management of genetic resources
Capacity building of local institutions and key individuals
Sustainable livelihood and development
Poverty reduction initiatives
Scaling up MSSRF's biodiversity programme
Academic Background
PhD degree in Systematic Botany with specialization in Angiosperm Taxonomy.
Award holder Watson International Scholarship on Environment in 2006 and Alcoa-IUCN fellowship on conservation in 2008.