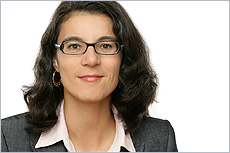 Research Expertise
Rural Development
Gender Studies
Institutional Economics
Natural Resource Management
Current Research Interests
Institutional Analysis of Agrobiodiversity Management
Theorising transdisciplinary integration to develop adequate knowledge products for developing agrobiodiversity
Conducting international research resting on interdisciplinary cooperation and intercultural communication.
Selected Publications
Kunze, Isabelle; Lippe, Melvin; Padmanabhan, Martina (2011): Review of the book Agriculture, Biodiversity and Markets edited by S. Lockie and D. Carpenter, Society & Natural Resources 25, 317-319
Padmanabhan, Martina (2011) Institutional Innovations and Gender Equity in Agrobiodiversity Management: Collective Action in Kerala, South India. Journal Society & Natural Resources. 24 (2) 174-184.
Padmanabhan, Martina (2010) Gender and Institutional Analysis. A feminist approach to economic and social norms. Diskussionspapier 91. Stiftungsprofessur Umwelttechnik und Umweltmanagement, Wirtschaftswissenschaftliche Fakultät, Universität Leipzig.
Schultz, Irmgard; Hummel, Diana; Padmanabhan, Martina (Hrgs.) (2010) Schwerpunkt "Feministische Perspektiven auf Nachhaltigkeit". Femina Politica 1/2010
Beckmann, Volker; Padmanabhan, Martina (eds) (2009) Institutions and Sustainability. Political Economy of Agriculture and the Environment – Essays in Honour of Konrad Hagedorn. Dordrecht: Springer
Padmanabhan, Martina (2008) Collective action in plant genetic resources management: Gendered rules of reputation, trust and reciprocity in Kerala, India. Journal of International Development. 20, 83-97.
Padmanabhan, Martina (2007) The making and unmaking of gendered crops in Northern Ghana. Singapore Journal of Tropical Geography. 28., 57-70.