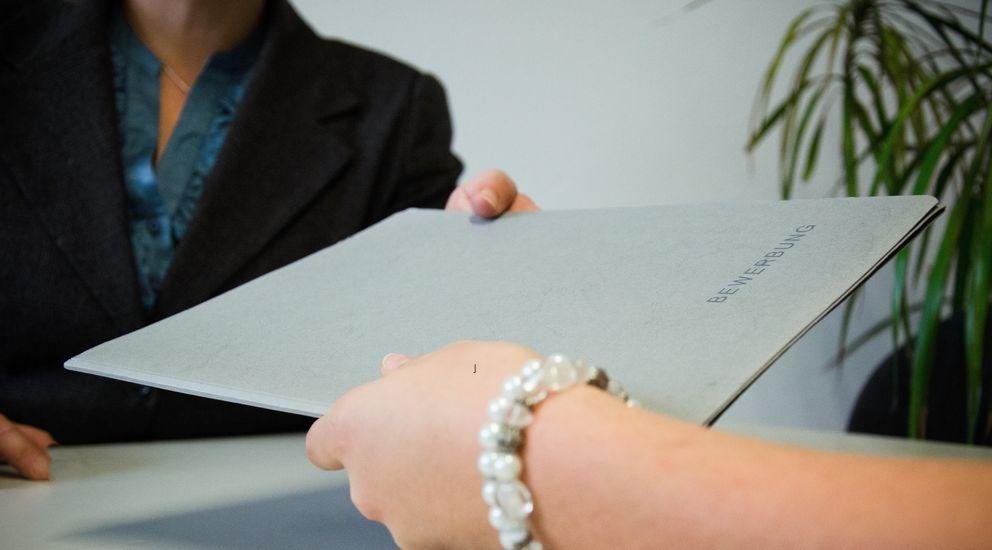 What does your application need to make it a successful one? How do you design the ideal CV? What do you have to keep in mind when going for a job interview? And what is special or different about German applications?
The Center for Careers and Competences is here to help you find answers to these and many other questions, and we've got sample CVs and plenty of tips for your applications.
Extensive literature on the subjects 'job entry and starting your career', 'how to apply' and 'studies and internships' can be found in the reading room of the Central Library under signature AL 43.
Also take a look at our calendar of events on the topics of applying in Germany and abroad and the events recommended for international degree-seeking students.
A good cover letter is essential for a successful application. It gives a first impression of you and the first few lines can determine the success or failure of your application. The aim is to arouse the employer's interest to read your application in full. Below you will find some useful advice on how to craft a successful cover letter, as well as other useful links.
Formal requirements of cover letters
Should not exceed one page
Your address and other contact details (e-mail address and phone number)
Recruiter's address and contact person (if indicated)
Subject with reference to the job advertisement or 'Initiativbewerbung' (German for 'speculative application')
Personal form of address, including the academic title of the person you're writing to
The cover letter text
Complimentary close: 'Mit freundlichen Grüßen' or 'Freundliche Grüße' (no comma)
Your signature (scanned in good quality, i.e. with a resolution of approximately 300 dpi)
The content of your cover letter
Keep it short and concise. Avoid unnecessary filler words and redundant information. Address the crucial points mentioned in the advertisement.
Choose an interesting opening and avoid boring introductory phrases such as '

Hiermit bewerbe ich mich

…' ('I hereby apply for ...').
Awaken the interest of the employer by writing an appealing description of your motivation and qualifications so that he/she will want to read your whole application.
Explain why you are interested in the job and the organisation. What do you like about this company and the position advertised?
Make yourself stand out: state clearly how your career, knowledge and skills make you the perfect candidate for the job. Think about what your strengths are and why the company should choose you. To do this, connect the job requirements to your skills, which means emphasising the points on your CV which seem most relevant for the role.
A possible closing sentence would be, for example, '

Ich freue mich auf eine Einladung zum persönlichen Gespräch

' ('I am looking forward to an invitation to a face-to-face interview'). Be assertive and show that you have confidence in yourself and your abilities. Therefore, avoid the conjunctive, such as '

Würde ich mich sehr freuen

' ('I would be very happy').
Sometimes you may be asked to indicate your salary expectations – in which case you should give a not-too-narrow bandwidth in terms of gross annual salary – and the earliest starting date for which you would be available.
Recommended reading and helpful links
The University Library has literature on the topic of written applications, such as 'Ihre erfolgreiche Initiativbewerbung' (Püttjer/Schnierda).
Information sources in English:

Information sources in German:
The curriculum vitae, or CV for short, is the central component of your application. You should, therefore, always make sure that it is well-structured, without gaps and up-to-date. Your CV is a summary of your skills, achievements and interests and shows if you are qualified for the position and whether you fulfil all the core requirements. Adjust or adapt your CV for each specific application. Below you will find useful advice for creating a meaningful CV as well as links to other useful websites.
The layout of your CV
Your CV should be no longer than two pages. You can also present your application photo and your personal information on a separate cover sheet (see below).
Structure your CV by using relevant headings.
Keep it readable and only use one font and size.
Structuring the curriculum vitae
The reverse-chronological structure is the most commonly used CV format. Begin with your most recent achievements and work your way back in time.
Be sure to state the month and year of all items on your CV in a consistent format (e.g. 11/2014 – 04/2015)
Avoid large gaps in your CV (a few months' 'break' are not a problem in this case, periods ranging from six months to a year without specifying a form of employment or training stand out in a negative way)
Tailor your skills and achievements to the job. Only enter relevant experience and do not use irrelevant enumerations, such as part-time jobs that are not linked to the required skills or which did not help to extend your skills.
Cover sheet
For aesthetic reasons, or in order to save space on the CV, many applicants use a cover page, which will then be the first page the recruiter sees. If you include a cover sheet, it should list your contact details (name, address, phone number, e-mail address, etc.) and, for job applications in Germany, a current, professional photograph. Although this is common practice in Germany, when applying abroad you should always research how things are done in your country of choice: in many countries, it is not common practice to put a picture on your CV (unless you are applying for a job where looks are a key requirement, e.g. as a model or actor). Doing so anyway will, at best, raise a few eyebrows; at worst it will prevent potential employers from taking your application any further – even if your skills and qualifications match the job description perfectly – as companies are generally keen to avoid litigation risks, particularly in jurisdictions with strong anti-discrimination laws.
What should your CV include?
Every CV should have the following elements:
Personal information (if no cover sheet was used): Name, address, telephone, e-mail (look for a reputable e-mail address), date and place of birth; optional: the information on nationality and marital status.
If applying in Germany: a photograph (unless there is one on the cover sheet); if applying outside Germany, check whether it is common practice to include a photograph.
School and university education

University studies (name of university, degree programme and subjects studied, dates (year and month), degrees (bachelor's, master's, doctorate), optional: dissertation/thesis topic and grades
Education (type of school, qualification, dates (year and month), optional: final grades
Work experience

Employers and places of work with dates (year and moth)
Type of activity, area or department
Use bullet points to describe your tasks (the more important the experience, the more detailed the description)
Any relevant stays abroad (optional if emphasising international profile and intercultural experience

Information about internships or study abroad, au pair stays, language courses abroad, etc.
Optionally, you may list these under 'education' or 'work experience'
Additional skills

Language skills with level of proficiency (either basic knowledge / good / very good / fluent (written and spoken) / business fluent / native speaker or classification by CEFR levels, possibly both (more about CEFR)
Computer literacy (simply naming the programs is usually sufficient, but do indicate an accurate skill level if the programs are relevant to the application
Further education and training: relevant completed seminars, workshops, etc.
Volunteer jobs

Organisation/association and location
Type of activity and area of work
Job description in bullet points
Personal interests

3-4 interests in one line, rather than a list
The more specific you are, the better
Location, date and, for German CVs: handwritten signature (scanned at a resolution of 300 dpi and pasted into the document); if applying abroad, a signature may or may not be required
Recommended reading, helpful links and sample CVs
Reference books and guides can be found at the University Library.
In English:
In German:
Did you write a strong application? Getting invited for a job interview means you're cleared the first hurdle: now you have the opportunity to convince your potential employer in person of your skills and strengths. Here are some useful tips on how to prepare for the interview and what you need to keep in mind when talking to your potential employer.
Preparing for the job interview
Prepare well for the job interview. Visit the company's website and get an understanding of their business, its size, its products/services and the sector in which it operates. Additionally, look at other relevant websites, industry-specific trade press, ask friends who are already active in this company or have been employed there or contact alumni of the University via business networks like LinkedIn or Xing. Also, get information on your interviewer and prepare two or three questions you would really like your interviewer to answer. This demonstrates your commitment and interest in the company and the vacant position.
Think about what you are going to wear. Make a good first impression! Pay attention to a neat and well-groomed appearance. Dress codes vary considerably across industries. Therefore, visit the company's website and take a look at the photos of their employees. In general, it is better to be slightly overdressed than underdressed.
The conversation process
For most of us, a job interview is a very stressful situation. Within a short time you are supposed to convince the company that you are the right person for the job. It is important to stay calm and relaxed. Be confident. Pay attention to your body language and gestures, give a firm handshake, put on a friendly expression and keep eye contact. If you wish, you can bring a pen and paper with you, but do not take extensive notes – looking at your notebook for protracted periods of time should be avoided. A typical job interview might go something like this:
Welcome and smalltalk
Presentation of the applicant: first, you will need to introduce yourself and explain your background and why you are applying for the job. Give a short summary of your education and work experience, starting with high school. Try not to leave out any relevant information. Keep it short and to the point, don't go into too much detail but still try to present yourself as interesting and self-motivated. Your interviewer has already read your application. However, it is important to explain once again that you fulfil all the requirements of the position. At this point, the interviewer will ask most of the typical questions, which can be found further down.
Presentation of the company: at this point the company introduces itself and gives you additional information about the advertised position. Listen carefully and possibly add meaningful comments, to show your knowledge of the company.
Your questions: the recruiter will give you the opportunity to ask questions yourself. Use this chance to show your interest in the company and the vacant position.
Ending the interview: if appropriate, ask about the next steps in the selection process and when you can expect an answer from the company.
Typical interview questions
Below are some questions that are likely to come up in a job interview. Familiarise yourself with these questions beforehand and think about how you can answer difficult questions as honestly and positively as you can.
'Can you tell us something about your personal and professional background?' – Tell the interviewer about every important career step and experience which has made you the ideal candidate for the position. Try not to ramble on about your life and focus on relevant experience.
'Why did you choose us?' – This question is intended to test your motivation and interest in the company. You need to be prepared for this common question so you give a quick and convincing answer, and be prepared for further inquiries. Possible answers are:

I am looking for a new challenge ...
I want to expand my professional horizons ...
I would like to work in a new environment ...
This is not easy to answer because there are several things that I took into consideration...

'Why should we give you the job?' – This is a test of your self-esteem and self-confidence. Are you able to promote yourself and summarise your skills clearly?
'Where do you see yourself in five years?' – This question tests your commitment and motivation. Be confident and optimistic about your career, but do not exaggerate. One possible answer is:

My professional goal in five years is... but first I want to get started and prove what I can achieve.

'What are your strengths/weaknesses?' – Try not to dwell too much on your strengths but also think about your weaknesses and how you can present them positively as learning experiences, i.e. how you overcame the weakness in a past situation.
'What was your biggest failure?' – While you should talk about your achievements in detail (especially team performances), you should be cautious when being asked about failures. Do not share any serious or irreparable mistakes, but stick to the little things. If possible, a past failure can be presented as a source of motivation or something you learned from.
'Which five character traits would describe you best?' – With this question the interviewer tries to find out whether you fit in with the company. Start on a professional level and, if at all necessary, move on to the personal level later.
'Do you have any questions?' – It is always advisable to prepare two or three questions that you want the interviewer to answer. Make sure that these questions have not been answered in the course of the conversation. Useful questions may relate to remit, jurisdiction and responsibility. Questions regarding vacation and break regulations should be avoided.
Questions interviewers are not allowed to ask
In job interviews, only questions which determine the suitability of an applicant are allowed. It is only permitted to ask questions about your health when applying for a physically strenuous job; in other instances, these sorts of questions are usually prohibited. If the information is not important for the performance of the job, questions on the following topics are prohibited and you are under no obligation to answer them truthfully:
health (illness, disability)
family planning
family members' occupations
trade union, political or religious affiliation
previous salary and the reason for termination of your employment contract with the previous employer(s)
private financial circumstances
Trend: job interviews via Skype
Nowadays, a lot of interviews are conducted via Skype. However, there are a few things to consider:
Most importantly, you will need a stable internet connection and make sure your webcam and headset are of good quality.
Log on early enough so you can perform a test call to become familiar with the technology.
Ensure you have a suitable background image and proper ambient lighting.
Be well-prepared and do not use cheat sheets.
Avoid any external interference caused by noise or other people and close all unnecessary programs on your computer.
Pay attention to what you are going to wear: even if the interview takes place in front of a camera, the same criteria still apply as in a traditional interview.
Stay calm and look into the camera.
Recommended reading and helpful links
You can find helpful literature on job interviews, for example, in the reading room of the Central Library.