University profile and vision
The University of Passau stands for excellent research and innovative teaching – as well as the diversity and an openness to the world that are essential preconditions for such excellence. In Passau, science, culture and an entrepreneurial spirit find their unique combination; people from all over the world meet in the baroque Old Town and talk to each other about their academic, cultural or entrepreneurial projects. This spirit of togetherness is one of our greatest strengths.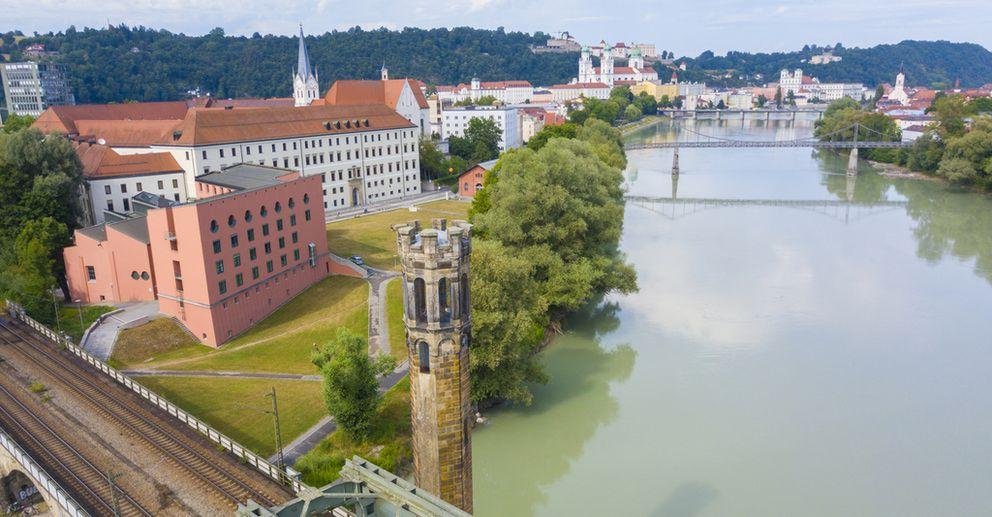 A University for Europe. Now and in the Future.
Our aim is to be a forward-looking, internationally renowned and attractive Bavarian University for Europe that delivers a significant contribution to the solution of current and future challenges.
The University's guiding principle is to foster excellence in research and establish outstanding working conditions, particularly for students and early career researchers.
By its 50th anniversary in 2028, the University of Passau intends to become one of the leading centres in Europe for basic interdisciplinary research on the effects of digitalisation on society.
Three guiding themes – one vision
With our vision for 2028, we are continuing the successful Technik Plus development programme. We focus our research on three key themes derived from the founding ideals of our university:
Europe and Global Transformation
The University of Passau was founded in 1978 as a so-called borderland university in Passau, the City of Three Rivers. At the time, due to its proximity to both Austria and the Iron Curtain, the issue of Europe was tangible and literal. This history is revisited in the guiding theme 'Europe and Global Transformation' and carried over into a modern, intercultural profile focusing on Europe in terms of research and teaching at the University.
Migration, Sustainable Development and Just Order
In recent years, Europe's responsibility to respond to global challenges with appropriate strategies has increasingly prompted researchers at the University of Passau to make development questions a matter of academic enquiry. The interdisciplinary path taken has brought about not only the interfaculty master's programme in Development Studies but also the focal theme on 'Migration, Sustainable Development and Just Order'.
Digitalisation, Networked Society and (Internet) Cultures
Since 2011, the University of Passau has consistently dealt with another global development across academic disciplines and faculty borders: the societal effects of digitalisation. The Technology Plus development programme and the second phase of the successful DFG Research Training Group 'Privacy' has provided a sustained impetus for interdisciplinary co-operation between the faculties. On this basis, the scientists academics of the University of Passau developed the key theme of 'Digitalisation, Networked Society and (Internet) Cultures'.
Mission statement for teaching
The University of Passau has systematically addressed what constitutes 'good teaching' with an awareness of the freedom of teaching and, after an intense participatory process involving all faculties, the Senate and the Student Parliament, adopted a mission statement for teaching, thereby committing itself to a high-quality teaching and learning culture. This mission statement is the guidepost for the social responsibility of teachers towards students in all their diversity. It is a signal to the university community that quality assurance in and continuous development of teaching is a matter of course for us.
Advancement of early career researchers
Any university that strives to maintain sustained excellence in research and teaching must provide a first-rate support base for those setting out on their research careers.
For this reason, the University of Passau encourages – both intellectually and financially – its early career researchers to actively and successfully contribute to global scholarship by means of excellent research output, by developing international research networks and making their research achievements visible both within Germany and internationally.
In doing so, the University particularly prioritises supporting female early career researchers.
Diversity and gender equality
The University sees the diversity of its student body, teaching staff and employees as both a strength and a responsibility. Differences in gender, language, ethnic identity, place of origin, ideological or religious orientation, political beliefs, age, sexual orientation, physical and mental ability or unusual life trajectories and ranges of experience challenge conventional perspectives and spark scholarly creativity and innovation.
Not only does the University of Passau strive to achieve excellence in research and teaching, it also pursues it in positive action for women and equal opportunities. In doing so, the University particularly prioritises appointing greater numbers of female professors.
These standards also apply to administrative support staff. Diversity is part of the university's self-image and should suffuse the University's reputation in its city, the region, Germany, Europe and the world as a whole.
As a university, we consider it one of our primary duties to highlight the social relevance of academic research and make new knowledge accessible.
The range of subjects at the University of Passau encompasses the humanities, law, social sciences, economics and business as well as computer science and mathematics. The knowledge and technologies that emerge from our research should be usable for society and the economy: this is our understanding of knowledge and technology transfer. That necessitates a flow of impulses between academia and society – a flow that runs in both directions.
We provide knowledge that can be used in a social, cultural, legal or economic context, and place a special focus on promoting entrepreneurial activities and making them usable for society.