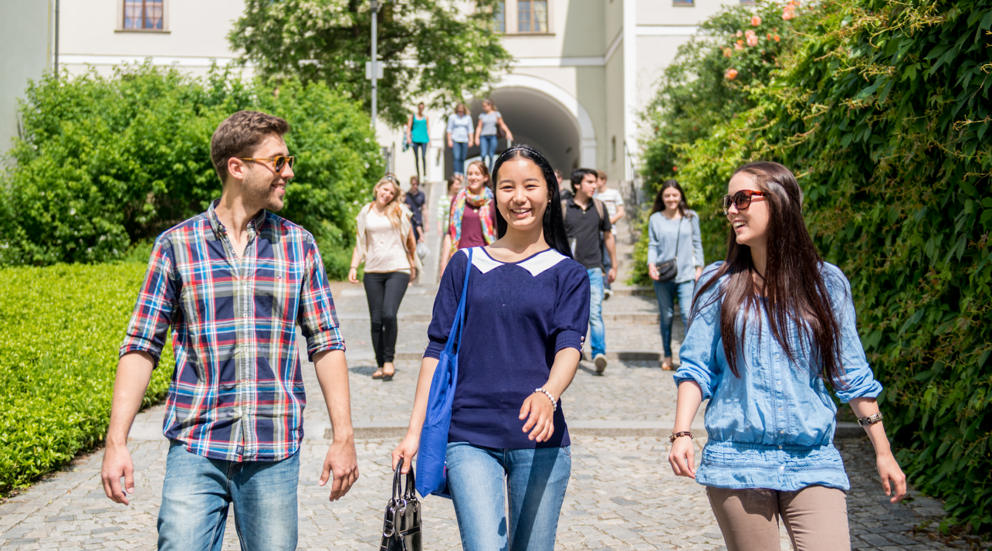 What is the buddy scheme?
We would like to provide international students who come to the University of Passau as exchange students, as full students or to learn German, with a personal contact person for their familiarisation, the first steps and also for the best possible integration into student life in Passau.

Where can you find things at the university? How do you live as a student in Passau? Where is the best place to live? Which businesses are good? What is on offer in the evening? How and where can I get to know Passau students? What makes a German tick?

All these questions and many more arise when international students come to Passau. To make the start easier for our guests, we are looking for Passau students who would like to help them settle in and during their stay at the University of Passau and in return learn something about foreign cultures and languages or more about familiar ones.
What are the next steps after registering as a sponsor?
As soon as possible, you will receive an e-mail with the relevant sponsorship data of an international student, your buddy, with whom you will get in touch before his/her arrival in order to clarify the most important questions of your buddy in advance. If possible, you should ask him/her regularly after the first contact how he/she is making progress with the preparations for the stay in Passau.

When registering, please bear in mind that taking on a sponsorship involves a great deal of effort and is primarily intended to make it easier for the international student to settle in. We cannot always find buddies from the desired countries and ask you to accept the sponsorship in this case as well, unless you have excluded this in your application.
What do I have to do if my Buddy is in Passau?
You should make an appointment for a first meeting as soon as possible after your buddy arrives in Passau in order to get to know each other. Perhaps you and your buddy will go to the cafeteria for lunch just at the beginning of their stay, show them the campus and the city, meet for coffee, tea, etc. or have a drink in the evening. Also visits to cultural events or smaller/large excursions with your own/common friends are a good idea. In order to get to know each other better, you can also join your buddy in activities with other international students he or she knows, which they often organise themselves.

If you understand each other well, you will probably keep in touch beyond your buddy's stay in Passau. Please note that the international students need support especially in the beginning. It is therefore best to be in Passau before the lectures start. Some of the international students have not found accommodation before their arrival in Passau and may therefore need the support of their buddy before their arrival or during the first few days.
What requirements should I meet?
In general, you are expected to have a serious interest in helping international students get used to their new environment and to be communicative. Foreign experience or experience in dealing with people of other nationalities than your own is desirable but not mandatory.
Interested?
Then please fill out the online registration form.
When can I apply?
For the winter semester: from the beginning of January until the end of the first week of lectures in October.
For the summer semester: from the beginning of July until the end of the first week of lectures in April.
Any questions?
hiwi.auslandsamt@uni-passau.de
Mareike Busse
Student Assistant
International Office
University of Passau