Internationalism is a key characteristic of the University of Passau. Students of all degree programmes have the option of studying abroad at one of our global partner universities for a semester or more.
Moreover, our language courses and subject-specific language programmes in Chinese, Czech, English, French, Indonesian, Italian, Polish, Portuguese, Russian, Spanish, Thai, Turkish and Vietnamese give you an edge on the international job market and make you an attractive candidate for multinational companies.
English-taught programmes
Multilingual degree programmes
While German is the principal language of instruction for the following degree programmes, they are multilingual by design: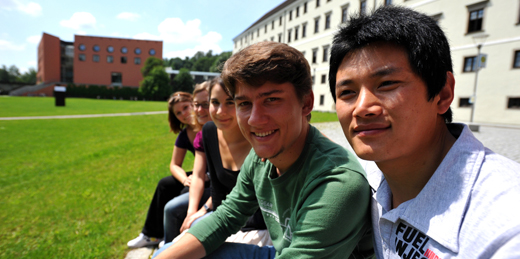 You can earn a degree from the University of Passau and a partner university at the same time. The University of Passau has double degree programmes in place with universities in Argentina, England, France, Hungary, Russia, Scotland, Spain and Turkey.
International Bachelor's programme: 3+1: 3 years in Passau, one year abroad
Degree programmes with a compulsory stay abroad
Integrated study abroad component of the Law programme
As a student enrolled in the Law programme, you can take Foreign Law as your specialisation at a partner university. The completed coursework will count towards your degree in Passau. The University of Passau has cooperative partnerships with the following universities:
Toledo (Spain)
Plzen (Czech Republic)
Prague (Czech Republic)
St. Petersburg (Russia)
Krasnoyarsk (Russia) – information in German
More information about the Foreign Law specialisation (German)
Professors of the University of Passau teach degree courses in German at universities abroad; these courses receive funding from the German Academic Exchange Service (DAAD).
The University is keen to sharpen its international profile and offer international students interesting prospects. At the same time, the University is keen to provide German students with attractive, internationally-oriented degree programmes. It is therefore indispensable that students have a wide selection of English-taught courses at their disposal.
Below is a list of English-taught courses offered by the Faculties and institutions of the University.