Life in Passau: a little city that's big on quality of life
Passau: the "Venice of Bavaria"
Widely considered one of the most beautiful cities in Germany, Passau is situated in the southern foothills of the Bavarian Forest mountain range & national park, at the confluence of the rivers Danube, Inn and Ilz. The city's mediterranean architecture, piazzas and peninsular layout have earned it the nickname "Bavaria's Venice" - a nickname that feels even more accurate when tourists and cruise ships visit the city.
University town or holiday destination? Both:
Playing the video will send your IP address to an external server.
Playing the video will send your IP address to an external server.
Playing the video will send your IP address to an external server.
Passau is located in the east of Bavaria and in the heart of Europe between Munich, Prague and Vienna. Diversity and multiculturalism are hallmarks of the city, thanks in part to our students and academics from around the world, and also due to the numerous guests from near and far who visit Passau as a holiday destination.
With a population of around 50,000, Passau is not too big, nor too small. It is just right for a city: big enough to have all the services, facilities and excitement one might wish for, but small enough for a friendly, personal atmosphere. Passau has a lot to offer the 11,000 students and 2000 staff at the university!
Here's what you can expect if you decide to study or work in Passau: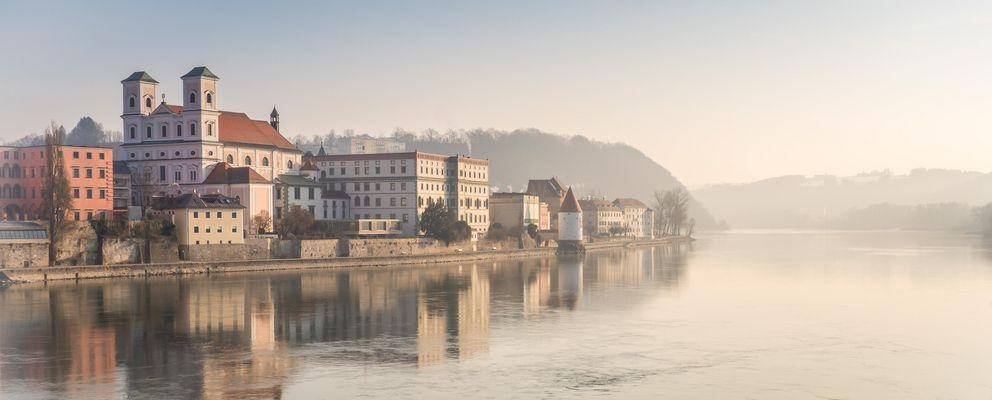 Many students and academics fall in love with our beautiful city during their first visit. Those who, after graduation, seek to make their fortunes elsewhere, often find it hard to leave behind the historic streets of the old town, the holiday feeling on the waterfront and the many inviting green spaces.
However, Passau is not just quaint and pretty. It's a welcoming, cosmopolitan city, celebrating culture, diversity and Bavarian tradition in its many venues, events and festivals. Outdoorsy types love the natural environment and leisure facilities in and around Passau, while those with itchy feet use the excellent transport connections for excursions to capital cities, Unesco world heritage sites, and iconic attractions.
Love Passau - when one photo turns into a hundred
Just one quick snapshot, that was the plan. A vacation memory. Click, click... and click again. If you walk through Passau and start taking pictures, you'll soon struggle to put the camera away. The motifs in front of the lens are too beautiful, the charme of this beautiful city too great.
Let yourself be inspired by our photo gallery - then come to Passau and try to take just one snapshot/selfie!