Sports and leisure in Passau
In Passau, there's little excuse for boredom. There are lots of things to see and do:
You can go (window) shopping in the Stadtgallerie shopping mall or around the artisan alleys of the old town, take a pleasant stroll along the river embankments, make an excursion to the nearby cider farm, discover the castles and palaces in the region, go for a cycling trip along the long distance cycle paths, jump into the fantastic swimming pools of the P.E.B. (a water attraction including lidos, an indoor pool, sauna, water slides and a wave machine), spend a day in the Roman Museum, visit the opera, or join a board game night in a pub...
The Sports Centre of the University includes a variety of indoor and outdoor facilities. You can take part in around 40 different sports, including aikido, table tennis, exercise classes, winter sports, rowing, yoga and several types of dance.
Indoor facilities include two sports halls, an indoor climbing wall, and a workout area. Outdoor facilities include a football field, running tracks, basket ball courts and two beach volley ball courts. A boating facilities for rowing and canoeing can be found about two kilometers up river along the Inn.
You can check on the sports centre website for the most up-to-date information.
Bavaria and Austria are world famous for their winter sports opportunities. Near Passau, you can ski in Hochficht and in the Ski Centre Mitterdorf. Both are located about 60km from Passau.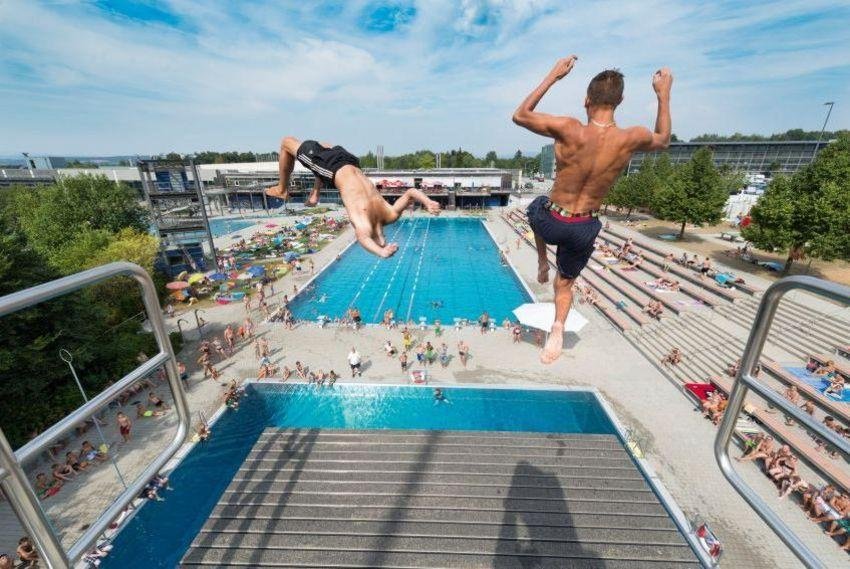 In Passau, you can go swimming in the PEB aquapark, in public pools, or in nearby lakes.
Unterer Ilzstausee

(lower Ilz reservoir) near

Passau-Hals

Freudensee

(lake of joy) near

Hauzenberg

Stausee Oberilzmühle

(reservoir of the upper Ilz watermill) near

Salzweg
For further information, see the Welcome Guide.
If you prefer other water sports, Passau also has several diving schools and clubs, and aside from canoeing, rowing and boating, you can also try stand-up paddle boarding.
There is a lot to discover in Passau! There is an ice rink, there are many cycle and foot paths, and the city's more than 100 sport- and leisure clubs cover every conceivable activity, from shooting to equestrian vaulting, from flying to offroad driving...
Video: Bavaria's great outdoors!
Playing the video will send your IP address to an external server.