360-degree campus tour: NK Courtyard
This is the accessibility standards compliant alternative version of the virtual campus tour.
If you are not affected by a disability, we recommend you visit the original instead. The 360-degree tour is more immersive and includes the full high resolution images. Visit the University of Passau 360-degree campus tour.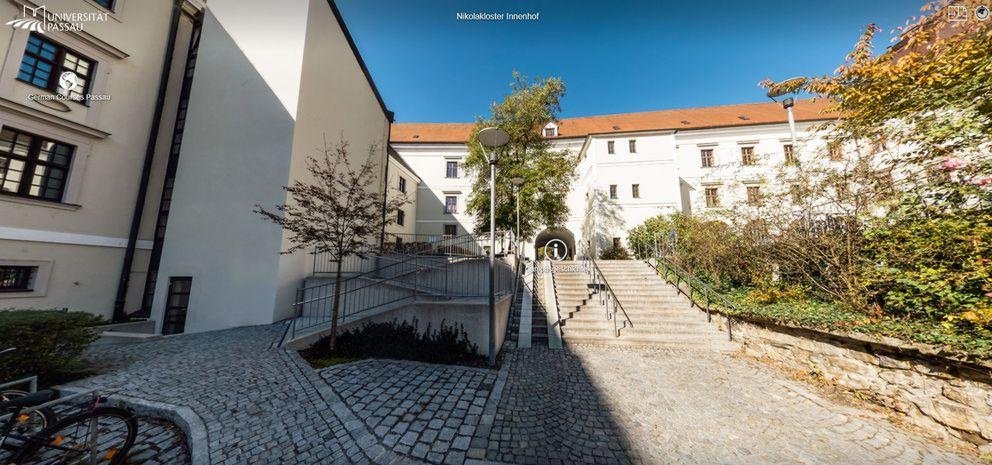 The courtyard of the Nikolakloster complex is a busy thoroughfare for pedestrians and cyclists, but simultaneously a quiet island between busy city centre roads. It's home to many bicycle stands for our students.
Towards the North, the gateway leads to a green square where farmers' markets sell produce on Tuesdays and Fridays. Right by the entrance, an information stall details the long and varied history of the building. On the other side, a memorial to the fallen from the First World War and a fountain provide a calm space for remembrance and reflection.
Compared to the grand archways leading into the courtyard, the entrance to the university is understated. A narrow corridor leads past a mail room and the information room about study abroad opportunities into a smaller, triangular courtyard and to the 'Kulturcafete' cafeteria.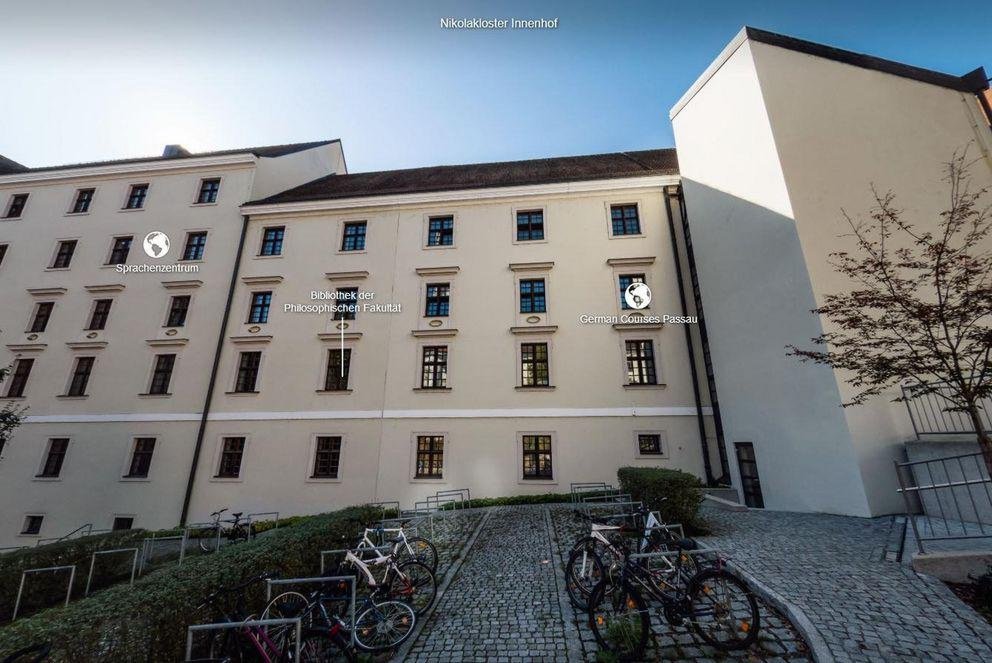 To the West of the courtyard lies the part of the NK complex that belongs to the University. The library of the Faculty of Arts and Humanities, offices, and the Language Centre and German Courses Passau are all located inside this building.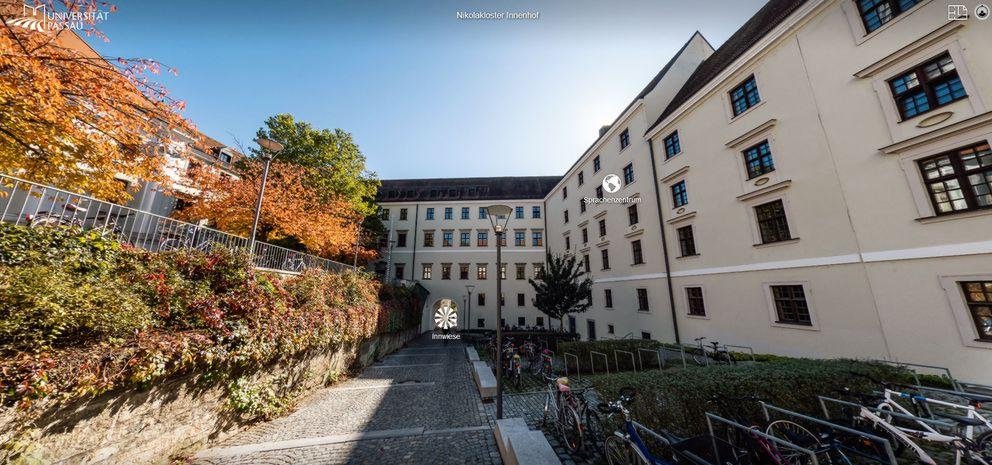 Every day, hundreds of people walking from the town centre to the University pass through the NK complex. Outside the Southern archway, a pedestrian crossing leads straight to the Innwiese meadow.
Alternatively, some prefer to walk through the university buildings - taking the skyway from NK building to Philosophicum building, especially on rainy days.
Raised above the footpath, in the shadows of the trees, invisible to those walking below, there is a student pub and (weather permitting) beer garden run by the Catholic student community, the 'Gmoa'.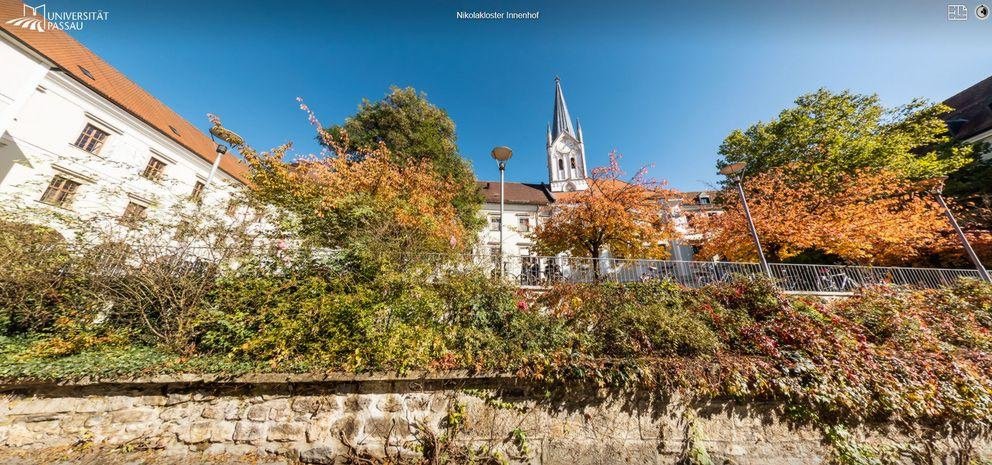 The Eastern part of the Nikolakloster complex is home to a child daycare facility, an old people's care home, and a convent.
Above the courtyard, the church tower of the Kirche Sankt Nikola (Church of St Nicola) adds a little drama to the scenery. The church tower was rebuilt from 1992 to 1998 as a replica of the church tower that stood there between 1410 and 1450.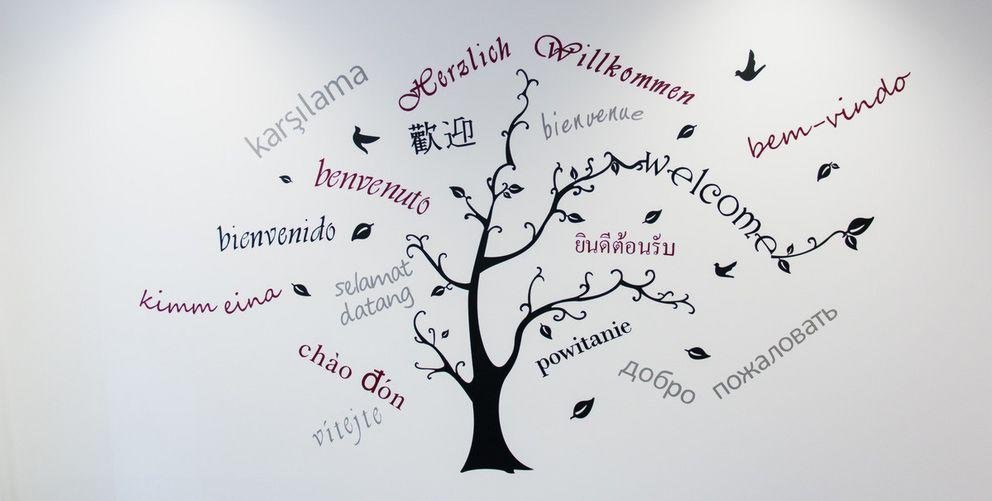 The Language Centre offers courses in 14 languages taught by native speakers. For many students, there are subject-specific language programmes available, tailored to their area of study.

For those learning German, the Language Centre is the home of German Courses Passau.

Language Centre web pages
German Courses Passau (GCP)
GCP offers three types of courses: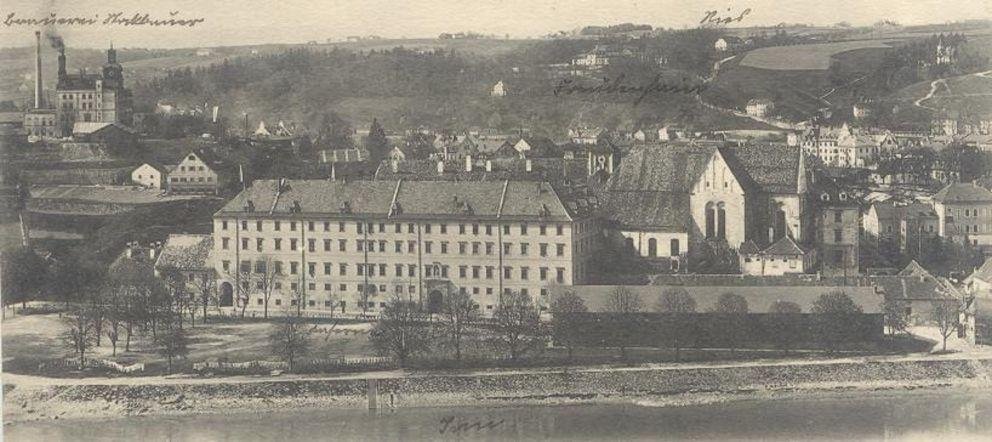 Before 1978, there was no 'University of Passau' but there has been higher education in Passau for almost 400 years. One of our buildings has a 950-year history.

If you love history, visit the Digital Museum of the University, or browse the campus history pages on the university website.
Links to nearby points on the campus tour