This is the accessibility standards compliant alternative version of the virtual campus tour.
If you are not affected by a disability, we recommend you visit the original tour instead. The 360-degree tour is more immersive and includes the full high resolution images. Visit the University of Passau 360-degree campus tour.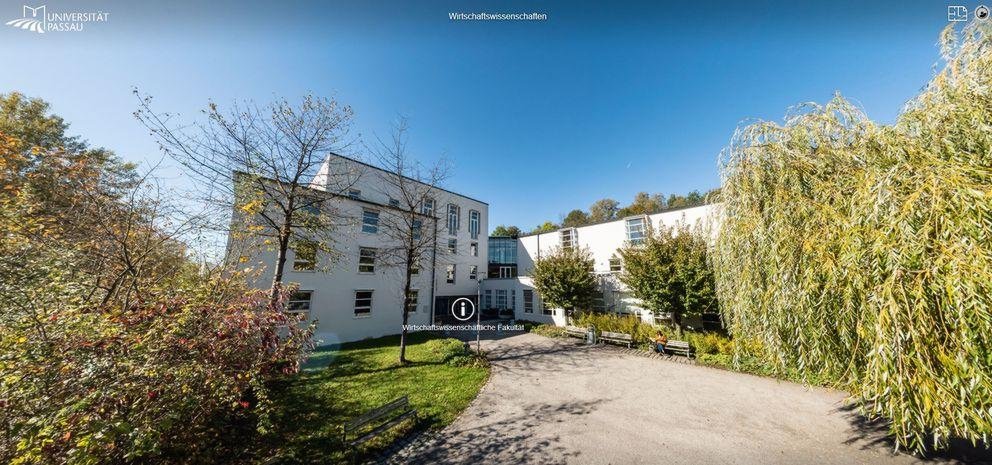 Outside the entrance of the School of Business, Economics and Information Systems, a set of benches offer a relaxing place to check the phone, take in a bit of sunlight, or look at the trees and songbirds that visit them.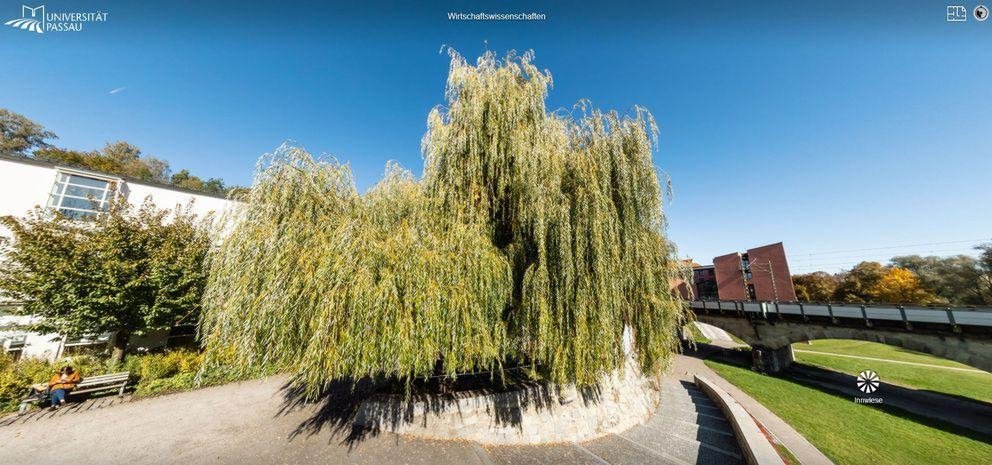 A huge willow tree stands above the walkway that leads down, under the railway bridge, and towards the Philosophicum Building. Where that tree now stands, railway tracks branching off the main line used to go into the area now taken up by the campus. Those tracks led towards the place now occupied by the refectory: once upon a time, there were slaughterhouses there, and the railways carried in livestock.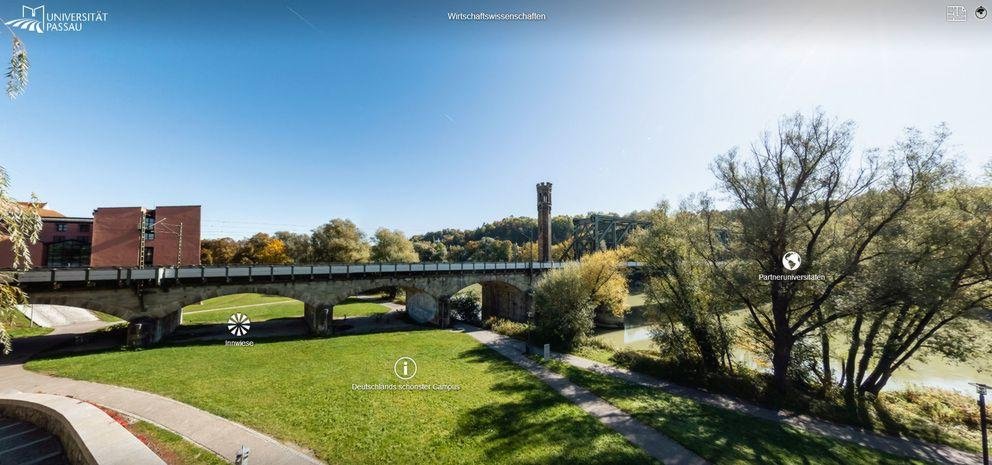 These days, the spaces under the arches of the railway bridge are often used to store bicycles. Unsurprisingly, the arches themselves are popular with graffiti taggers.
The little bridge tower is a leftover from older times: when the 'Empress Elisabeth Bridge' was built in 1869, it had four decorative towers. However, at the end of World War Two, the bridge was detonated and three of the four towers were destroyed. When the bridge was rebuilt in the immediate aftermath of the war, pretty decorations were not a priority.
Behind the trees, the green river Inn flows towards the Danube. It's a temperamental river, especially in spring, when a little flooding of the river embankments is quite common.
School of Business, Economics and Information Systems
In this young, innovative and dynamic faculty, our focus areas are:
Accounting, Finance, and Taxation
Economics
Management, Innovation, Marketing
Business Computing / Information Systems
Quantitative Methods
Our motto 'Change, Renew, Design' guides all our degree programmes and our research.

Visit the Faculty website to find out more.
At the University of Passau, internationalism is part of our institutional identity.

Our connections with 250+ partner universities abroad create many opportunities for study exchanges, work placements abroad and international research collaborations.
Business start-up support
Passau's students and graduates have established numerous successful businesses.The University supports student entrepreneurs with start-up coaching, advice about funding sources, contests, regular networking opportunities with successful entrepreneurs, and more.

The School of Business, Economics and Information Systems offers two certificate programmes in Digital Technology and Entrepreneurship, in which students develop and realise their own business ideas.

Find out more about business start-up support.
The University has received an award for having Germany's most beautiful campus.

Relaxing green spaces, weather that invites picnics and BBQs, and a location right by the river Inn provide the perfect backdrop for studying.

The city centre is a mere 5 minutes' walk away.
Links to nearby points on the campus tour