This is the accessibility standards compliant alternative version of the virtual campus tour.
If you are not affected by a disability, we recommend you visit the original tour instead. The 360-degree tour is more immersive and includes the full high resolution images. Visit the University of Passau 360-degree campus tour.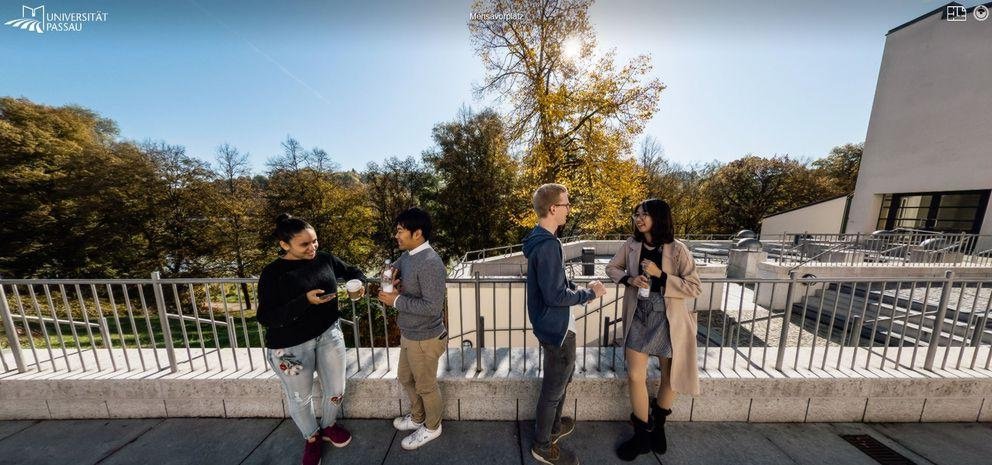 The large plaza between WIWI Building and refectory is a busy pedestrian thoroughfare. Beneath their feet lies the main underground car park of the university. Behind the railings, paths descend down to the cycle path and the river Inn.
The University's print shop can be found in the lower floors of the WIWI Building.
Outside the library, the stainless steel art installation "Hülle und Kern" (Cover and Core) by Joachim Bandau is one of the most recogniseable landmarks on campus. The four steel pillars seem to point the way into the library.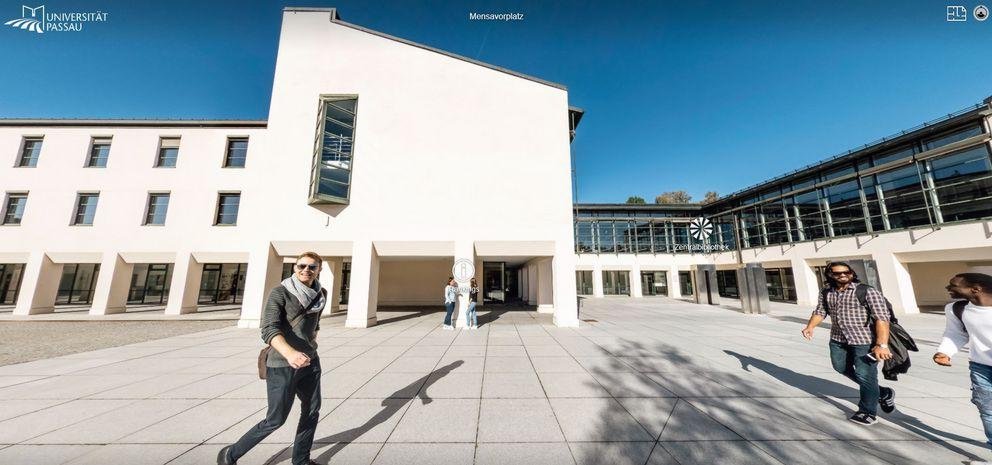 The huge glass windows on the first floor of the library are there to let light into the large reading room. At ground level, the library building features a colonnade that echos classical architecture in a modern, sharper style.
In German, the square is known as 'Mensavorplatz' (square in front of the refectory), so it's no surprise that there is a café with some outdoor seating is at the end of the square. The much larger refectory, however, is below the café.
Most students pass through Library Plaza regularly - on the way to food, books, study spaces, or just travelling between lecture and seminar rooms. As such, this is also the square where information stalls, student society fairs and campus Christmas markets can be found at different times of the year.

The University of Passau achieves excellent results in national and international league tables.
For 2020, we're ranked among the top 20% of universities in the world. See the rankings and league tables page for the latest results.
The Student Services Association (Studentenwerk) is responsible for student accommodation, hospitality services and cultural facilities such as music rooms.
Additionally, you can get advice about German student grants & loans (BAFöG) and social welfare advice.
For more information, visit the Student Services Association website.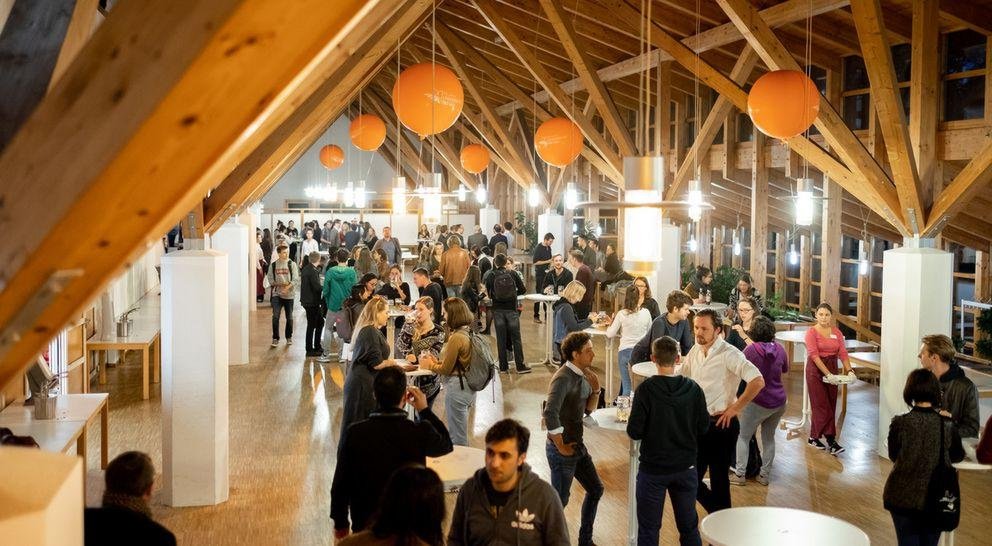 The refectory and the four cafeterias around campus serve affordable, fresh food.
It is also the venue for events such as the welcome night for international students or the Leberkasempfang (meat loaf reception).
Not keen on meat? No problem: during semester-time, there are always vegetarian and vegan options on the menu.
Visit the refectory web pages for more information.
Links to nearby points on the campus tour