The University of Passau is proud of the diversity of our international, multicultural campus community. You would like to come to Germany for a semester or your entire course of study? Or are you already enrolled at the University of Passau and would like to study abroad? Here you can find an overview of the international study programmes at the University of Passau.
If you are already proficient in the German language, almost our entire portfolio of degree programmes is open to you. If you don't speak German, then those of our Master's programmes that can be attained entirely in English may be of interest:
Students of selected countries can apply for the master's programme Governance and Public Policy through the DAAD-PPGG scholarship scheme without needing any prior knowledge of the German language. DAAD-PPGG funded scholars can complete the Master's programme in English.
As a degree-seeking student
Through an exchange program
Students of all degree programmes have the option of studying abroad at one of our global partner universities for a semester or more.
International Bachelor's programme adhering to the 3+1 formula (3 years in Passau, one year abroad):
Degree programmes with a compulsory stay abroad
Integrated study abroad component of the Law programme
As a student enrolled in the Law programme, you can take Foreign Law as your specialisation at a partner university. The completed coursework will count towards your degree in Passau.
More information about the Foreign Law specialisation and the partner universities (information in German)
Professors of the University of Passau teach degree courses in German at universities abroad; these courses receive funding from the German Academic Exchange Service (DAAD).
Language courses and Multilingualism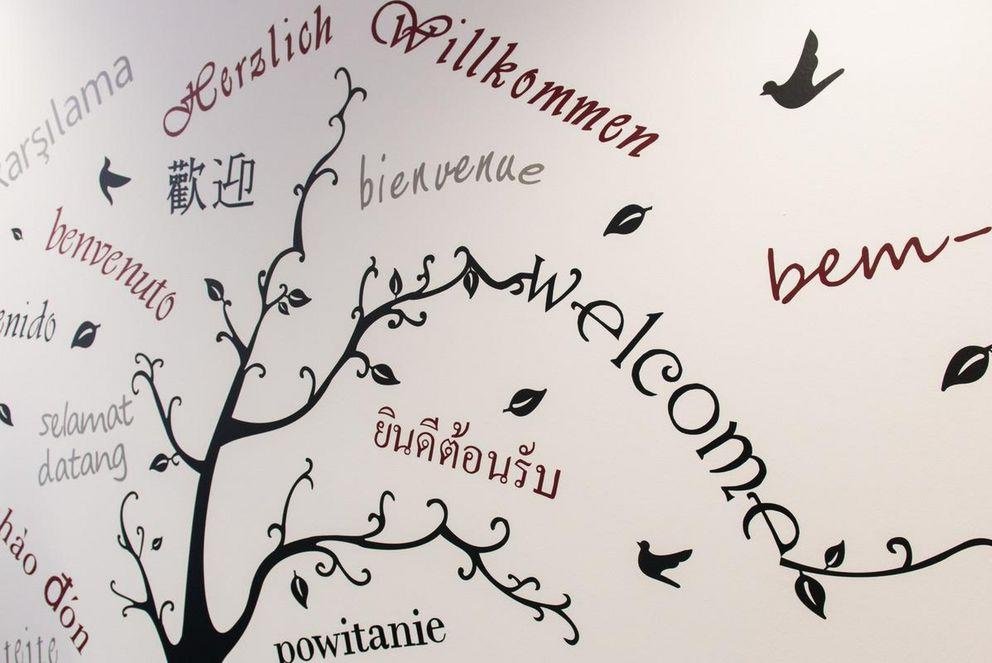 Our language courses and subject-specific language programmes give you an edge on the international job market and make you an attractive candidate for multinational companies.
While German is the principal language of instruction for the following degree programmes, they are multilingual by design:
You can earn a degree from the University of Passau and a partner university at the same time. The University of Passau has double degree programmes in place with universities in Argentina, China, Czechia England, Finland, France, India, Italy, Hungary, Scotland, Spain, Tunisia, Türkiye, and the USA.
Playing the video will send your IP address to an external server.
International PhD Programmes
The so-called bi-national or international doctorate involves the participation of supervisors and/or reviewers from a foreign educational institution. In the bi-national doctoral procedure you acquire a doctoral degree jointly awarded by two educational institutions in different countries on the basis of a single scientific achievement (i.e. not: two different doctoral degrees).
This form of doctoral studies may be interesting for you if
you would like to ensure your scientific affiliation in both participating countries, because you are aiming at an international orientation of your future career,
your research focus (and that of your supervisors) is strongly connected to the other country
the doctoral topic is in the research interest of both institutions.
For this purpose, an individual agreement between the participating institutions (doctoral regulations) is usually necessary or useful, as it regulates important details and responsibilities.
The concrete design of a cotutelle procedure can vary. Your faculty may already have programs, regular cooperation or good contacts. It is best to contact your supervisor or the dean's office of your faculty. Please also inform yourself about specific requirements in your doctoral regulations.
Please note that this form of doctoral studies places additional demands on your time and self-management as well as on your funding (travel for longer research stays abroad). Whether you can apply for the Graduate Center's travel funding for planned travel depends on the individual case.
Bi-national PhD at the Faculty of Humanities
Im Wintersemester 2014 wurde zwischen der Andrássy Universität Budapest und deren Interdisziplinärer Doktorschule sowie der Universität Passau und deren Philosophischer Fakultät eine Kooperationsvereinbarung zur Durchführung binationaler Promotionen (Cotutelle de thèse) unterzeichnet. Damit besteht für Promovierende die Möglichkeit, unter der Betreuung von Professorinnen und Professoren beider Hochschulen zu promovieren und mit dem Abschluss der Promotion einen Doktorgrad zu erlangen, der gemeinsam von beiden Universitäten verliehen wird. Die Dissertation kann in den Fachbereichen Politikwissenschaft, Geschichte, Wirtschaftswissenschaft und Rechtswissenschaft angefertigt werden.
Weitere Informationen erhalten Sie über das Dekanat der Philosophischen Fakultät und auf der Website der Andrássy Universität.
In the winter semester of 2014, a cooperation agreement was signed between the Andrássy University of Budapest and its Interdisciplinary Doctoral School and the University of Passau and its Faculty of Philosophy for the implementation of binational doctorates (Cotutelle de thèse). This gives doctoral students the opportunity to do their doctorate under the supervision of professors from both universities and, upon completion of the doctorate, to obtain a doctoral degree that is awarded jointly by both universities. The dissertation can be completed in the area of Political Science, History, Economics, and Law.
For more information, please contact the Dean's Office of the Faculty of Humanities and visit the website of Andrássy University. Since one the criteria for admission to the PhD programm is a German proficiency equivalent to B2-Level, the information is only available in German and Hungarian.
In 2016, the Faculty of Computer Science and Mathematics at the University of Passau, together with INSA Lyon (France) and the Università degli Studi di Milano (Italy), founded the international research center in intelligent digital systems "IRIXIYS". Within this framework, there is an international doctoral program with the possibility of a cotutelle doctorate.
Joint Doctoral Degree Programm at the Faculty of Economics
Since February 2014, the Faculty of Economics has been offering a joint doctoral program with the Department of Management Studies at IIT Madras in India.
Since February 2014, the Faculty of Business and Economics has been offering a joint doctoral program with the Department of Management Studies at IIT Madras in India.
Various forms of cooperation are conceivable within the framework of your doctorate:
Cooperation with universities in Germany
Cooperation with universities abroad (cotutelle)
Cooperation with universities of applied sciences
Cooperation with research institutions
Cooperation with industry and other institutions
Please note the following information if you would like to do your doctorate cooperatively:
Before beginning your doctoral studies, please clarify with the cooperating institution whether you will be able to comply with the regulations of the doctoral regulations regarding publishing (publications prior to submission of the thesis and publication of the finished dissertation).
Please contact your supervisor in advance and then, in consultation with him or her, the dean's office and/or the doctoral committee of your faculty.
In general, please clarify how confidential and protected the data are that you collect/develop in the course of the cooperation with external parties and how the results may be published.
The copyright and the resulting exploitation and usage rights are yours alone as the author. But: You can contractually grant usage rights to other persons/institutions. Please make sure that you do not 'accidentally' assign your rights (e.g. by signing an agreement for a blocking period with a view to publication).
If you have any questions about your options for doing a PhD at the University of Passau, please contact the Graduate Centre.